Paraserianthes lophantha
Cape Leeuwin Wattle, Crested Wattle
Paraserianthes lophantha (Willd.) I.C.Nielsen
Paraserianthes is a genus of four species (2 Aust) belonging to the family Fabaceae (Mimosaceae) and formerly included in the genus Albizia. It consists of trees and shrubs that are mainly tropical and closely allied to the bipinnate (feather-leaved) Acacias or wattles; but it does differ in that the stamens are longer and the small petals are united in the lower part.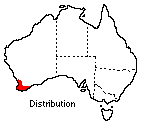 Paraserianthes lophantha, commonly known as Cape Leeuwin Wattle or Crested Wattle, is the only species occurring in south-west Western Australia; the other is found in tropical Australia.
It is an attractive small tree to about 8m, very fast growing, especially in coastal areas, with long (up to 20 cm) bipinnate leaves. The greenish yellow flowers appear in early June and flowering continues through the winter months and into September. These are followed by dark seed pods up to 10 cm in length. The tree flowers from an early age and because of its quick growing habit makes good cover for other species.
Trees in the Australian National Botanic Gardens grew in only a few years to 2.5m to 3.5m in height depending on their aspect. The trees were planted in the higher areas of the gardens in rocky Black Mountain loam, surrounded by Eucalyptus rossii and E. macrorhyncha, which may reduce the intensity of the frosts during the winter months. Some of the plants suffered minor frost damage to the new shoots but taller trees show no such damage.
The best-performing trees were those having an easterly aspect, receiving full sun for most of the day. This seems desirable, as trees planted in heavy shade have not performed nearly so well.
Paraserianthes lophantha occurs naturally in the coastal areas of south-west Western Australia from Fremantle to King Georges Sound. It is used widely as an ornamental plant in coastal districts of South Australia, Victoria, New South Wales and Tasmania and has, in fact, become naturalised in these areas. It is recorded as a weed species in New Zealand and should therefore be planted with caution.
Its attractive foliage and habit, plus its long winter flowering period, make it an attractive addition to any garden setting. It appears to be pest free.
Text by N Fisher (1979)
Name meaning: Paraserianthes lophantha
Paraserianthes - from the Greek para (close or near to) and the Malasian tree genus Serianthes;
lophantha - from the Greek, lophos, meaning a crest (on a helmet or on a bird)