Alloxylon pinnatum
Dorrigo Waratah
Alloxylon pinnatum (Maiden & Betche) P.H.Weston & Crisp
Alloxylon pinnatum is most commonly known as the Dorrigo Waratah, though it is also variously called the Dorrigo oak, Red silky oak, Tree Waratah, Pink Silky oak, Red oak, Queensland Waratah, and the Waratah oak. Alloxylon, like the better known Sydney Waratah (Telopea speciosissima ) belongs to the Proteaceae family.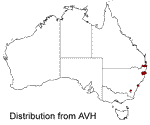 The Dorrigo Waratah is known as such because of its distribution. It most commonly occurs around Dorrigo, on the Dorrigo Plateau, but is also found in the MacPherson Ranges on both sides of the Queensland-New South Wales border.
Alloxylon pinnatum has bright green pinnate leaves and large beautiful pink or red flowers, which occur in clusters at the ends of branchlets. The tree also attracts a lot of nectar-feeding birds and insects over its flowering period from October to January, and has been known to flower from Spring to early Autumn under good conditions. Flowers are also known to have a good vase life, which can make them desirable to grow. The fruit from this tree are ripe from February to June and appear as woody brown follicles about 10 cm long, containing flat, papery seeds. In its natural habitat the Dorrigo Waratah can grow up to 24 m tall and in cultivation up to 6 m. This comparatively small height and spectacular long lasting floral displays, makes it a desirable horticultural plant.
Despite being naturally found in warm temperate rainforest at high altitudes of 700-1250 m, Alloxylon pinnatum has been successfully grown in the Australian National Botanic Gardens in Canberra for over 25 years. This has been achieved by providing the tree with a sheltered, semi-shady position with an abundant mulch layer. The tree can withstand short cold spells and frost, though it should not be allowed to dry out particularly when newly planted. It is best, in cool climates, to plant on a north-facing slope under a light canopy. To maintain the plant, regular watering during hot spells is highly desirable and pruning is only required to make it bushy.
Propagation is most successful by seed which is ripe between February and June and which is viable for about 12 months. Cuttings will also strike but not with ease. It must also be noted that this species requires cross-pollination to produce viable seed, so plants grown from cuttings will not be able to produce this. Plants are widely available commercially.
Text by Katrina Mackerras (2005 Student Botanical Intern)
Derivation of the name: Alloxylon pinnatum
Alloxylon - from 'allos' meaning another or foreign and from 'xylon' meaning wood or tree.
pinnatum - comes from the feathered or winged leaf characteristic.
References
Elliot, W.R. & Jones D.L. (1986) Encyclopedia of Australian Plants suitable for cultivation , Vol. 4. Lothian Publishing, Port Melbourne.

Fagg, M. & Wrigley, J.W. (1996) Australian Native Plants, Propagation ,Cultivation and Use in Landscaping , 4th ed., Reed Books.

Jones, D.L. (1986) Rainforest plants of Australia; 1986, Reed Books.

McCarthy, P.M. (ed.) (1995) Flora of Australia: Elaeagnaceae, Proteaceae 1. Vol. 16. CSIRO Australia, Melbourne.

Nicholson, N. & Nicholson, H. (1985) Australian Rainforest Plants; Inprint.

Weston, P.H. & Crisp, M.D. (1991) Alloxylon (Proteaceae), a new genus from New Guinea and eastern Australia, Telopea, vol. 4(3): 497-507.