Grevillea jephcottii
Green Grevillea, Jephcotts Grevillea, Pine Mountain Grevillea
Grevillea jephcottii J.H.Willis
Grevillea jephcottii (pronounced jeff-cot-ee-eye), also known as Green Grevillea, Jephcotts Grevillea and Pine Mountain Grevillea, is a member of the Proteaceae family. The Green Grevillea is a rare native, which is becoming increasingly popular in gardens across Australia.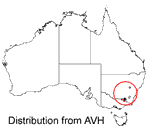 G. jephcottii is a dense and elegant upright shrub between 1-3m tall and 1-2 m wide. Its leaves are 1.5-3.5 cm long and 1.5-8 mm wide. Its leaves are entire, simple and usually narrowly oblong-elliptic or occasionally lanceolate with a slight twist and often hairy. The flowers, which are produced mid-Spring, are generally a light creamish green becoming pale yellow or translucent white before blackening with age. The flower displays a purplish style with white hairs. Its dense flower clusters circle the branches, which is particularly unusual for a Grevillea species. Its pollen filled flowers are renown to be particularly attractive to birds including wattlebirds, spinebills and other honeyeaters.
It is a rare species, with its distribution confined to several small areas between Walwa and Corryong, in the Burrowa-Pine Mountains National Parks or North Eastern Victoria and its adjacent border with N.S.W. Hot dry summers and cool wet winters are characteristic of the area with average rainfall between 700-800 mm where it is found at altitudes of about 550-650 m.
It grows in both open and closed Eucalyptus forests in a relatively thick, mixed, scrub understory or as a dominant shrub in open woodlands. Plants in open or exposed situations are generally low and bushy, where as those in well shaded forests are generally much taller. They grow on steep hillsides and often in rocky situations among granite in gravelly or sandy clay loam, preferring well drained soils. It regenerates from fires via seed only. It is also known to hybridise in the wild with the closely related Grevillea lanigera.
The species propagates readily from cuttings, preferably young and firm growth. They also produce many seeds that germinate well if pre-treated. However as they are known to hybridise readily with other Grevilleas in gardens, propagation from cuttings may be preferable. The species has been in cultivation for many years and has proved to be very hardy and highly adaptable, succeeding in various conditions from cold-wet conditions to warm-dry and has been particularly hardy against drought and relatively frost tolerant. G. jephcottii has been extensively cultivated throughout Victoria, N.S.W. and Queensland and also in the U.K and United States. One downside of this plant being so adaptable is the risk of this species becoming and environmental weed. It is advisable to check with local environmental authorities before planting in your area.
The plant likes well-drained areas and can grow in partial shade or full sun. Once established the only maintenance generally needed is light tip pruning to keep it bushy, verdant and blooming plentifully. If left unpruned the plant can become tall and leggy. G. jephcottii is also not suited to tub culture, finding conditions too restrictive. As with all Grevilleas and most members of the Proteaceae family it is important to fertilize carefully using fertilizers low in Phosphorus as they are intolerant to high concentrations.
Grevillea jephcottii would be a lovely addition to any garden and you may even have your neighbours green with envy, after all how many people can say they have rare Grevillea, that is only found on the top of a remote Victorian mountain growing next to the shed.
Text by James Hitchcock (2005 Student Botanical Intern)
Photos: 1 © J.Hitchcock, 2 © M.Fagg, ANBG
Derivation of the name: Grevillea jephcottii
Grevillea – Named after Charles Francis Greville (1749–1809), co-founder of London Horticultural Society, a patron of botany.
jephcottii – Named after members of the Jephcott family of Ournie, on the upper Murray River with special acknowledgement for Sydney Wheeler Jephcott, who discovered the plant in 1878, when he was only 14.
References
Burke, D. 1983. Growing Grevilleas : Kangaroo Press Ltd, N.S.W.

McGillivray, D. J. and Makinson, R.O. 1993. Grevillea, Proteaceae . The Royal Botanic Gardens and Domain Trust.

Olde, P. and Marriott, N. 1995. The Grevillea book, volume two . Kangeroo Press Ltd, N.S.W.

Wilson, A.J.G.(ed). 2000. Flora of Australia. Volume 17A , Proteaceae 2, Grevillea. ABRS/CSIRO Australia.