Allocasuarina inophloia
Stringybark Sheoak
Allocasuarina inophloia (F.Muell. & F.M.Bailey) L.A.S.Johnson (1982)
Allocasuarina is a member of the Casuarinaceae family, consisting of four genera, along with Gymnostoma, Casuarina and Ceuthostoma. Originally described by Ferdinand von Mueller and F.M. Bailey as Casuarinainophloia, in 1982 L.A.S. Johnson implemented a taxonomic change to Allocasuarina for some species within the genus including Allocasuarina inophloia.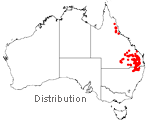 Allocasuarina is a genus endemic to Australia comprising of 59 species, mainly occurring in southern Australia. In the case of A. inophloia, distribution extends into north-eastern Australia. Predominantly an inland species of the northern NSW and southern Qld, A. inophloia has also been found in far north Qld closer to the coast.
Ranging from 3-10m in height with an open canopy of arching, drooping branchlets, in its natural habitat the full potential of A. inophloia can be compromised due to competition from other species. Generally A. inophloia is seen growing in an open forest environment amongst species such as Eucalyptus, Xanthorrhea and a mixed understorey of shrubs and grasses. Commonly found on ironstone and sandstone ridges, A. inophloia has the ability to adapt to a range of soil conditions but needs structures of good drainage capacity if in areas of high moisture content.
The foliage of A. inophloia consists of needle-like structures comprised of segments known as articles. These articles are 4-7mm long, ridged with convex formations. Leaves are reduced to teeth-like structures between the articles. The teeth are arranged in whorls of 7-9 and stand erect with no overlapping.
A. inophloia is a dioecious species, meaning that male and female plants are separate. Female flowers appear bright red during winter and male flowers are displayed as small spikes. The fruiting body forms a cone structure up to 20mm long and 12mm in diameter and is assisted by a short peduncle, which can also be absent.
The most significant horticultural value of A. inophloia is the hairy, shaggy, dense appearance of the bark on the trunk and lateral branches. This feature makes for a unique aesthetic quality. The common names for A. inophloia, Woolly Oak or Stringybark She-oak, are derived from this feature. Additional features for horticultural appeal include the open canopy allowing for part shade within a garden environment and for stimulation of another sense, the sound of the wind whispering through the canopy.
A. inophloia has a range of environmental tolerances. Allocasuarina are known for their ability to occur in nutrient deficient soils, which may encourage their potential use in cultivation. Environmental tolerances include warm temperate to semi-arid conditions, which can provide moist, well-drained soils, dry soils, full sun and part shade. Favourable to areas of higher altitude is the tolerance A. inophloia has to heavy frosts.
Appearing in the form of a samara (winged seed), the seed of A. inophloia is naturally dispersed by wind. Seed is the primary method in propagating for cultivation. Additional attributes for growing A. inophloia in cultivation include the tendency for fast growth when young and the appeal of the rusty-red heartwood for woodwork and cabinet making. Maintenance issues are fairly minimal but due to the limited strength of the wood, limb drop could occur in older plants.
Text by Lucy Ahrendt (2006 Student Botanical Intern)
Photos: M.Fagg (private)
Name meaning: Allocasuarina inophloia
Allo – derived from Greek word allos meaning other
casuarina - makes reference to relationship with the genus Casuarina within the family Casuarinaceae
inophloia – referring to the distinct bark structure displaying woolly, stringy qualities
References
Elliot, W. Roger & Jones, David L. (1982), Encyclopaedia of Australian Plants Suitable for Plant Cultivation, Lothian Publishing Company Pty Ltd, Melbourne, Australia

Molyneux, B. & Forrester, S. (1993) Choosing and Growing Australian Plants, Kangaroo Press Pty Ltd, NSW, Australia

Williams, Keith A.W. (1980) Native Plants Queensland Volume 1, North Ipswich, Australia

Wilson, K.L. and Johnson, L.A.S (1989) Casuarinaceae, Flora of Australia Volume 3, Hamamelidales to Casuarinales, Australian Government Publishing Service, Canberra

Wilson, K.L. and Johnson, L.A.S. (2000) Casuarinaceae. In Harden, G.J. (ed) Flora of New South Wales Volume 1, New South Wales University Press, Australia.

Wrigley, John W. & Fagg, M. (1996) Australian Native Plants: propagation, cultivation and use in landscaping, Reed Books