Persoonia pinifolia
Pine-leaved Geebung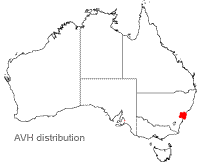 Persoonia pinifolia is a species of the Proteaceae family. It is naturally found growing in heath or sclerophyll forests within the sandstone region of the Sydney basin, in an area extending from Broken Bay to Royal National Park and west to the lower Blue Mountains.
It is commonly referred to as the Pine-leaved Geebung or The Australian Christmas Tree because it commences flowering around Christmas time has "pine tree" like leaves.
P. pinifolia is an attractive large shrub growing to approximately 2-4 metres in height, rarely up to 5 metres. It is distinguished by its pine or needle like foliage that are present on the plant throughout its life. Leaves are 3 to 7cm long and 0.5cm wide in size. The flowers grow in a raceme, first forming in late December and continually growing until June. The terminal flowers will always remain dormant. They are yellow in colour and look like all other Persoonia flowers in size and shape. Fruit is a drupe (a fleshy fruit with a single stone containing the seed), with the colour ranging from green when forming to dark purple when mature and is edible to many birds and small mammals.
From a horticultural perspective, P. pinifolia is an extremely attractive plant; however there are difficulties in propagating new plants from both seed and cuttings. It has been found that the seeds of P. pinifolia undergo a period of dormancy, and will remain in this state for some time. Numerous tests have been carried out to try and forcefully break this dormancy with differing degrees of success. Currently the most effective way of forcing germination is to clip the seed coating (exocarp), then treat with a Giberellic acid solution. By clipping the exocarp first it allows the Giberellic acid to interact with the seed embryo, hopefully triggering the seed germination. It also allows for the exchange of water and other nutrients that aid in growing of seedlings.
Plants can also be obtained from cuttings; however there is a lower level of success from this. The most appropriate way of striking cuttings is to use firm, yet soft, growing tips. The tips should remain on the plant as their removal can cause a blackening of the cutting, which can render it useless.
P. pinifolia grows well as a garden plant, either on its own or as a hedge. It can be grown in the ground and likes free draining acid soil. Alternatively it can grow quite well in a pot of medium to large size. They grow well in cool to warm temperate regions and will grow well in full sun to partial shade.
Text by Duncan Jardine (2009 Botanical Intern)
Name Meaning: Persoonia pinifolia
Persoonia – J.E. Smith in 1798 named the genus after Christiaan Hendrik Persoon (1761-1836), a South African botanist.
pinifolia – from the name of the genus Pinus and folius (Latin) meaning leaf, referring to the pine-needle like leaves.
References
Harden, G.J., Harden, D.W. & Goddin, D.C. (eds.) (2000) Proteaceae of New South Wales. UNSW Press.

McIntyre, D.K. (1969) The germination of dormant Persoonia pinifolia R. Br. Seeds by the use of Gibberellic Acid. Canberra Botanical Gardens Report 69/6. Bound typewritten report in ANBG Library.

Ellyard, R.K. (1982) The rooting of Persoonia chamaepitys and P. pinifolia. National Botanical Gardens Report 1981/82. Bound typewritten report in ANBG Library.

Elliot, G. (2003) 'Geebungs' so desirable in many gardens. Australian Horticulture 101(5): 62.

McCarthy, P. (1995). Flora of Australia Volume 16 Elaeagnaceae, Proteaceae 1. CSIRO Australia, Melbourne.

Mullins, R.G., Koch, J.M. & Ward, S.C. (2002) Practical methods of germination for a key jarrah forest species: Snottygobble (Persoonia longifolia). Ecological Management Restoration 3(2): 97-103

Lake, J. (1993) Persoonia for cultivation. Australian Horticulture 91(12): 59-60.