Prostanthera aspalathoides
Scarlet Mint-bush
Prostanthera aspalathoides A.Cunn. ex Benth.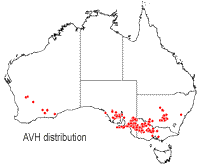 Prostanthera aspalathoides , also known as the Scarlet Mint Bush, is a member of the Lamiaceae family. The genus Prostanthera consist of 90 species restricted to Australia and is not considered to be at risk in the wild. P. aspalathoides is commonly found in mallee shrublands and widely distributed in the semi-arid regions of New South Wales, Western Victoria, South Australia and the Coolgardie region of Western Australia.
P. aspalathoides is an aromatic dwarf shrub with stiff erect stems usually from 0.3 metres to less than a metre high. The leaves range in colour from mild green to deep green with the young leaves being hairy and glandular. The tubular flowers are 1 – 2 centimetres long. There is great variation in leaf size and shape.
P. aspalathoides is drought resistant and grows well in dry climates with low humidity. The plant grows best in semi-arid and warm temperature regions but can survive in cooler climates if grown in a warm protected site . It is adapted to a range of soils from acidic to alkaline soils such as red sandy loam, overlying sandstone and shales or shallow calcareous soils. P. aspalathoides geminates well in free draining soils and tolerates full sun to partial shade. Plants can also be successfully grown in containers.
P. aspalathoides grows in profusion during spring. The two centimetre long flowers are very conspicuous providing a spectacular display. The tubular flowers range in colour from scarlet red to orange but yellow or white forms also occur. Although flowering occurs in spring and early summer it is known to bloom sporadically throughout the year in potted types.
Annual pruning, especially tip pruning, can result in compact foliage development although deep pruning should be avoided. Moreover, annual fertilization with a commercial fertilizer promotes healthy growth. Unlike other Australian natives, P. aspalathoides can tolerate high levels of phosphorus.
Plants can be propagated easily from cuttings and or grafting by the use of a hardy rootstock such as Prostanthera lasianthos or Prostanthera nivea although it is incompatible with the related and extremely hardy Westringia fruticosa. Growth hormones used are indole-3-Butyric acid (IBA) and 1- naphthaleneacetic acid (NAA). Germination from seeds is slow.
P. aspalathoides does not survive well in humid conditions. Powdery mildew, mealy bug and scales are common diseases that attack Prostanthera aspalathoides when grown in less favourable conditions.
Text by Lawrence Mou (2010 Student Botanical Intern)
Name Meaning: Prostanthera aspalathoides
Prostanthera – from the Greek prostheke, an appendix, and anthera; an anther, referring to the appendage on the stamens
aspalathoides – meaning similar to the genus Aspalathus
References
Botanic Gardens Trust (2010) Prostanthera aspalathoides in PlantNET - The Plant Information Network System of Botanic Gardens Trust, Sydney, Australia (version 2.0). Available at http://plantnet.rbgsyd.nsw.gov.au/cgi-bin/NSWfl.pl?page=nswfl&lvl=sp&name=Prostanthera~aspalathoides

Cunningham, G.M., Mulham, W.E., Milthorpe, P.L & Leigh J.H. (1981) Plants of Western New South Wales, Soil Conservation Service of NSW, NSW Government Printing Office, Sydney.

Council of Heads of Australian Herbaria (CHAH) (2010) Australia's Virtual Herbarium. Available at http://www.ersa.edu.au/avh/index.jsp

Elliot, W.R & Jones, D.L. (2002) Encyclopaedia of Australian Plants Suitable for Cultivation. Thomas. C. Lothian Pty Ltd

Government of South Australian: Department for Environment and Heritage (2010) Electronic Flora of South Australia. Available at http://www.flora.sa.gov.au/cgi-bin/texhtml?form=speciesfacts&keyname=Prostanthera+aspalathoides&submit=Search

Holliday. I & Watton, G. (1978) A Field Guide to Australian Native Shrubs. Rigby Limited

Hampshire, R. (2010) ANBG Horticulturalist, pers. comm.

Prostanthera aspalathoides (2010) Australian Native Plant Society ( Australia). Available at http://asgap.org.au/p-asp.html

Sheather, W. & Sheather, G. (undated) A View from Yalaroo – Plants. Prostanthera aspalathoides. Available at http://www.yallaroo.com.au/Prostanthera_aspalathoides.htm