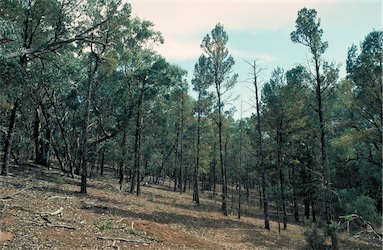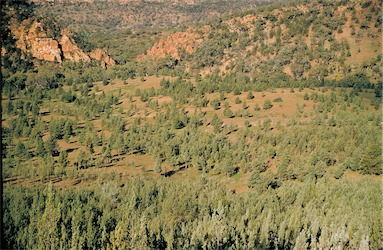 Foliage cover of tallest stratum 30 - 70%
Foliage cover of tallest stratum 10 - 30%
Foliage cover of tallest stratum less than 10%
Callitris Forests and Woodlands


Pure stands of cypress pine (Callitris spp.) are restricted to localised pockets on undulating to flat land, most often in fire-protected sites. An alliance with eucalypt species is more common. Other outlying populations occur on upland rocky areas protected from regular fire events.


Found mostly in a series of discrete regions, notably in the Brigalow Belt of inland Queensland and New South Wales, but also in the arid areas of South Australia and in association with mallee communities near the South Australia—Victoria border.


Generally dominated by a herbaceous understorey with only a few shrubs.


Associated shrub species in the arid and semi-arid zones include Eremophila (emu bushes), Dodonaea (hop bushes), Atriplex, Maireana, Sclerolaena (chenopods or saltbushes) and grasses such as Triodia, Plectrachne, Aristida and Austrostipa.
Extensive areas have been cleared for grazing in the Brigalow Belt and the Mallee bioregions. Major areas are included in state forests and other crown reserves in Queensland and New South Wales.

Photos from the Australian Plant Image Index