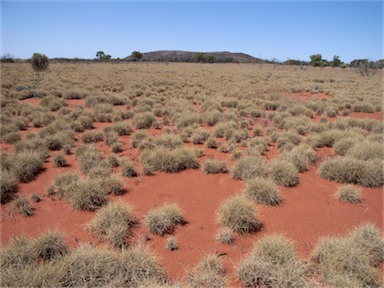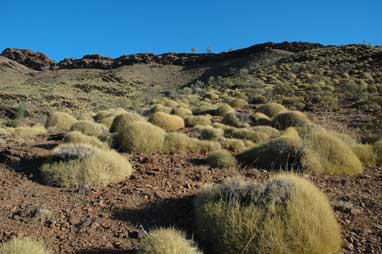 Foliage cover of tallest stratum 10 - 30%
Hummock grasslands


Typified by Triodia and Plechrachne spp. ('spinifex' or porcupine grass) communities of the arid lands, characteristic of the Australian outback.


Hummock-forming, evergreen perennials appear as mounds up to 1m in height. In between the mounds or hummocks the ground is usually bare or exposed, except after seasonal or cyclonic rains, when multiple short-lived, ephemeral plants proliferate. There are also occasional emergent shrubs or small trees (e.g. acacias or eucalypts).


Soils are sandy or skeletal with flat, undulating or hilly terrain from near coastal limestone islands (Barrow Island in Western Australia) to extensive sandy plains inland in semi-arid and arid areas of Australia.
Little of the Hummock Grasslands have been cleared but many areas have been modified by grazing pressure from domestic stock, feral animals and macropods.

Photos from the Australian Plant Image Index