Dorothy (Dot) Fitzpatrick Plaque
Dot Fitzpatrick was born on 25 February 1949, she died on 16 July 2012.
She was Administrative Assistant to the Director of National Parks, the position occupied at that time by Peter Cochrane, the person ultimately responsible for the Australian National Botanic Gardens within the Australian Government bureaucracy.
A ceremony commemorating her life was held on the Eucalypt Lawn of the Australian National Botanic Gardens on Tuesday 24 July 2012. Many of Dot's family, friends and colleagues gathered together to share their memories of her humour, great support and kindnesses.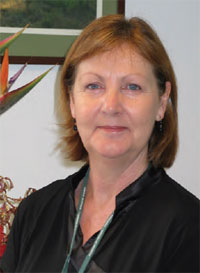 Dot was a mentor to many, particularly to our younger executive assistants. In her honour, the executive assistant's network Expand has established a Dot Fitzpatrick Memorial Award for Executive Assistant mentoring.
On 9 November 2012 a plaque was placed on a rock next to the pool at the Rock Garden, Section 15.
---
---