Christmas Island Botanical Postage Stamps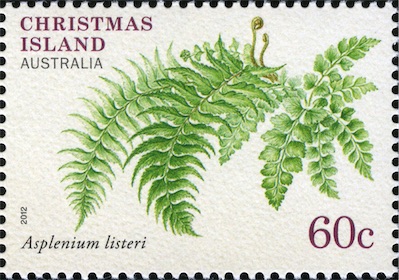 Date of issue: 1 May 2012
Illustrator: Jenny Philips
Printer: RA Printing
Part of a series of four fern stamps.
Plant: Asplenium listeri
Family: ASPLENIACEAE


Christmas Island Spleenwort
This fern is endemic to Christmas Island and grows on exposed limestone rocks and cliffs in a single locality.
The species name honours Joseph Jackson Lister (1857-1927) a Senior Lecturer in Animal Morphology at St John's College,
Cambridge, who visited the Island in 1887.

---
---