Christmas Island Botanical Postage Stamps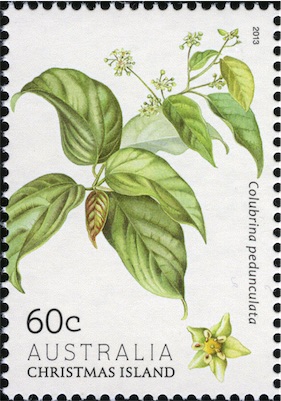 Date of issue: 18 June 2013
Illustrator: Deirdre Bean
Printer: McKellar Renown
Part of a series of four flowering shrubs stamps.
Plant: Colubrina pedunculata
Family: RHAMNACEAE
No common name
This is a thorny, sometimes straggling, shrub or small tree. Its thorns are 5-20 mm long.
Its leaves are deciduous after fruiting. It bears many yellow-green flowers, 5-6 mm across.
The fruit is about 7 mm long.
It is endemic to Christmas Island, common in the dry soil among limestone pinnacles.
---
---