Christmas Island Botanical Postage Stamps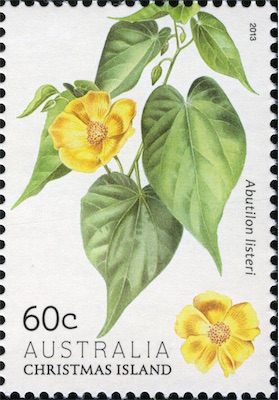 Date of issue: 18 June 2013
Illustrator: Deirdre Bean
Printer: McKellar Renown
Part of a series of four flowering shrubs stamps.
Plant: Abutilon listeri
Family: MALVACEAE
Lantern Flower
A common shrub on Christmas Island, growing to 1 - 3 m in height. The yellow flowers occur in loose, terminal clusters.
It is found only on Christmas Island in natural clearings and in the rainforest margin behind the sea cliffs on the lower terraces, and is often found in secondary growth and along paths and tracks. It responds well to environmental disturbance.
The species name honours Joseph Jackson Lister (1857-1927) a Senior Lecturer
in Animal Morphology at St John's College, Cambridge, who visited the Island in 1887.
---
---