Christmas Island Botanical Postage Stamps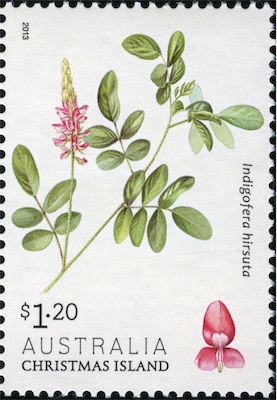 Date of issue: 18 June 2013
Illustrator: Deirdre Bean
Printer: McKellar Renown
Part of a series of four flowering shrubs stamps.
Plant: Indigofera hirsuta
Family: FABACEAE
Hairy Indigo
This plant is an annual or short-lived perennial woody herb to 60 cm; most parts with long, very unequally 2-branched hairs.
On Christmas Island it grows among limestone pinnacles and in poor soil in disused quarries and cleared ground.
It is a widespread species in the tropics from Madagascar, SE Asia, PNG to northern Australia.
---
---