Christmas Island Botanical Postage Stamps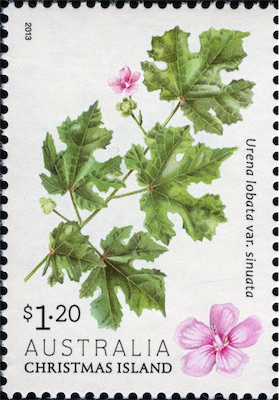 Date of issue: 18 June 2013
Illustrator: Deirdre Bean
Printer: McKellar Renown
Part of a series of four flowering shrubs stamps.
Plant: Urena lobata
The varietal name printed on the stamp, Urena lobata var. sinuata,
is not currently recognised by the Australian botanical community.
Family: MALVACEAE
Burr Mallow, Congo Weed
This plant is currently recognised as being native to Christmas Island, although it is widely distributed as a weed in the tropics of both hemispheres including Brazil and Southeast Asia and Australia.
On Christmas Island it occurs in open patches of loose disturbed soil and with limestone rocks.
---
---