Lichenologist 15: 141 (1983). T: Boyle River, near Lewis Pass, Canterbury, South Island, New Zealand, 9 Jan. 1979, D.J.Galloway s.n.; holo: CHR 34237; iso: BM.
Thallus rosette-forming to irregular, closely attached over whole lower surface, 2–8 (–10) cm wide. Lobes rounded, imbricate-convolute, 4–10 mm wide, usually rather short, convex, rarely elongate-laciniate, discrete from margins to centre; lobe margins entire, ±sinuous, usually conspicuously sorediate. Upper surface glaucous yellowish when dry, dark slate-blue to navy-blue tinged yellowish at margins and ridges when wet, smooth or pitted to subfaveolate in parts, glossy to minutely scabrid-areolate in places, maculate, sorediate; maculae pale yellow, conspicuous at margins and near thalline ridges, forming a marbled or mottled pattern of yellow photobiont-free areas, best seen when wet (×10 lens). Soredia yellow to ±blackened, coarsely granular, densely clustered in linear to irregular marginal soralia. Medulla yellow. Photobiont Nostoc. Lower surface pale yellow-brown at margins, darkening centrally, tomentose to margins; tomentum densely entangled, brown-black centrally, velvety pale buff to whitish at margins. Pseudocyphellae yellow, scattered, ulcerose, 0.05–0.3 mm diam. Apothecia not seen. CHEMISTRY: Pulvinic acid, pulvinic dilactone, calycin, 2α,3β-diacetoxystictane,
2α,3β-diacetoxystictane-22-ol, stictane-3β,22α-diol (trace), 2α-acetoxystictane-3β,22α-diol, 3β-acetoxystictane-2α,22α-diol and stictane-2α,3β,22α-triol.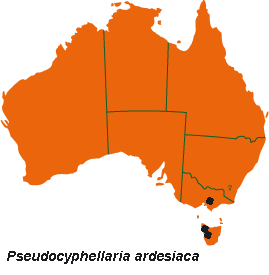 Occurs in Vic. and Tas., on mosses, trees and shrubs in sheltered, humid sites. Also in New Zealand.