Checklist of the Lichens of Australia and its Island Territories
Updated 12 April 2017
Lichens of the Australian Oceanic Island Territories
608 lichen species and infraspecific taxa are known from Australia's oceanic island territories: Christmas Island (CI; 99) in the tropical Indian Ocean; subtropical Lord Howe Island (LHI; 195) and Norfolk Island (NI; 187) in the south-western Pacific; and subantarctic Heard Island (HI; 112) and Macquarie Island (MI; 131) in the Southern Ocean. At present, 69 taxa appear to be endemic to the islands and 418 are also known from mainland Australia.
There are no published records of lichens from Ashmore Reef and Cartier Island in the Timor Sea or from the Coral Sea Islands Territory. Only one species, Usnea antarctica, has been reported from the volcanically active McDonald Islands, 45 km west of Heard Island (Walker, 1985), while Pyrenula ochraceoflava is now known from the Cocos (Keeling) Islands in the Indian Ocean (Aptroot, 2008).
See the main Checklist for publication details, synonymy, Australian distribution, descriptions, illustrations and references.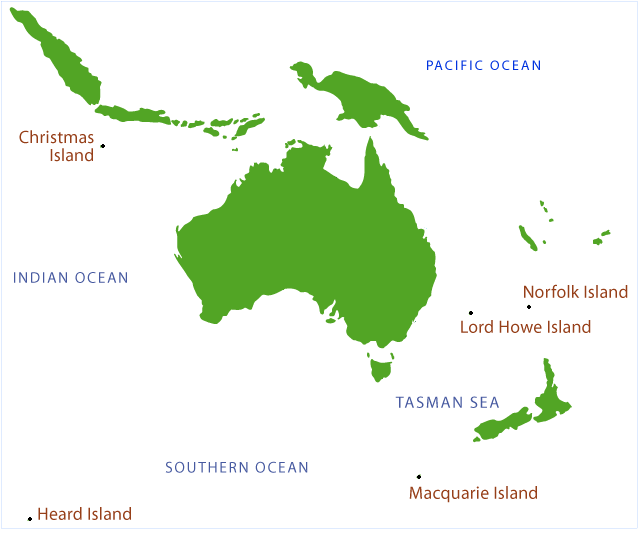 12 April 2017 (617 taxa)
Acarospora veronensis A.Massal. [HI, Extra-Aust.]
Aderkomyces albostrigosus (R.Sant.) Lücking, Sérus. & Vězda [CI, Aust., Extra-Aust.]
Agonimia tristicula (Nyl.) Zahlbr. [LHI, Aust., Extra-Aust.]
Amandinea coniops (Wahlenb.) M.Choisy ex Scheid. & H.Mayrhofer [NI, Aust., Extra-Aust.]
Amandinea julianeae H.Mayrhofer & Elix [NI, Extra-Aust.]
Amandinea litoralis (Zahlbr.) H.Mayrhofer & Elix [NI, Aust., Extra-Aust.]
Amandinea nitrophila (Zahlbr.) Elix [HI, Extra-Aust.]
Amandinea petermannii (Hue) Matzer, H.Mayrhofer & Scheid. [MI, Extra-Aust.]
Amandinea prothallinata Elix & H.Mayrhofer [NI, Aust.]
Amandinea punctata (Hoffm.) Coppins & Scheid. [HI, Aust., Extra-Aust.]
Amandinea stajsicii Elix & Kantvilas [NI, Aust.]
Amandinea subplicata (Nyl.) Øvstedal [HI, Extra-Aust.]
Anisomeridium australiense (P.M.McCarthy) R.C.Harris [LHI, Aust., Extra-Aust.]
Anisomeridium carinthiacum (J.Steiner) R.C.Harris [LHI, Aust., Extra-Aust.]
Anisomeridium terminatum (Nyl.) R.C.Harris [NI, Aust., Extra-Aust.]
Anthracothecium australiense (Müll.Arg.) Aptroot [LHI, NI, Aust., Extra-Aust.]
Anthracothecium gregale (C.Knight) Aptroot [LHI, NI, Aust.]
Anthracothecium toowoombense (Müll.Arg.) Aptroot [LHI, Aust.]
Arctomia latispora Øvstedal [HI] [ENDEMIC]
Argopsis megalospora Th.Fr. [MI, Extra-Aust.]
Arthopyrenia macquariensis C.W.Dodge [MI]
Arthothelium ampliatum (C.Knight & Mitt.) Müll.Arg. [CI, Aust., Extra-Aust.]
Aspicilia endochlora (Hook.f. & Taylor) C.W.Dodge [HI, Extra-Aust.]
Aspiciliopsis macrophthalma (Hook.f. & Taylor) de Lesd. [HI, Extra-Aust.]
Austroparmelina labrosa (Zahlbr.) A.Crespo, Divakar & Elix [MI, Aust., Extra-Aust.]
Bacidia macquariensis C.W.Dodge [MI]
Bacidina pallidocarnea (Müll.Arg.) Vězda [CI, Aust., Extra-Aust.]
Baeomyces heteromorphus Nyl. ex C.Bab. & Mitt. [HI, Aust., Extra-Aust.]
Blastenia keroblasta Zahlbr. [HI, Extra-Aust.]
Blastenia macquariensis C.W.Dodge [MI]
Bogoriella lateralis (Sipman) Aptroot & Lücking [NI, Aust.]
Brigantiaea leucoxantha (Spreng.) R.Sant. & Hafellner [CI, Aust., Extra-Aust.]
Brigantiaea lordhowensis Elix [LHI]
Buellia albula (Nyl.) Müll.Arg. [NI, Aust., Extra-Aust.]
Buellia atroflavella (Nyl.) Müll.Arg. [MI, Extra-Aust.]
Buellia cranwelliae Zahlbr. [NI, Extra-Aust.]
Buellia demutans (Stirt.) Zahlbr. [NI, LHI, Aust., Extra-Aust.]
Buellia cf. erubescens Arnold [HI, Aust., Extra-Aust.]
Buellia homophylia (C.Knight) Zahlbr. [NI, LHI, Aust.]
Buellia insularicola Elix & de Lange [LHI, Extra-Aust.]
Buellia kimberleyana Elix [NI, Aust., Extra-Aust.]
Buellia mamillana (Tuck.) W.A.Weber [LHI, NI, Aust., Extra-Aust.]
Buellia maunakeansis Zahlbr. [NI, Aust., Extra-Aust.]
Buellia mawsonii C.W.Dodge [MI, Extra-Aust.]
Buellia spuria (Schaer.) Anzi var. spuria [NI, Aust., Extra-Aust.]
Buellia stellulata (Taylor) Mudd [LHI, Aust., Extra-Aust.]
Buellia subbadioatra Müll.Arg. [MI, Extra-Aust.]
Buellia tristiuscula (Nyl.) Zahlbr. [HI, Extra-Aust.]
Bulbothrix goebelii (Zenker) Hale [LHI, Aust., Extra-Aust.]
Bulbothrix lordhowensis Elix [LHI]
Bulbothrix queenslandica (Elix & G.N.Stevens) Elix [LHI, Aust.]
Bulbothrix tabacina (Mont. & Bosch) Hale [LHI, NI, Aust., Extra-Aust.]
Bunodophoron australe (Laurer) A.Massal. [LHI, Aust., Extra-Aust.]
Bunodophoron formosanum (Zahlbr.) Wedin [LHI, Aust., Extra-Aust.]
Bunodophoron ramuliferum (I.M.Lamb) Wedin [MI, Aust., Extra-Aust.]
Byssoloma leucoblepharum (Nyl.) Vain. [CI, Aust., Extra-Aust.]
Byssoloma subdiscordans (Nyl.) P.James [CI, LHI, Aust., Extra-Aust.]
Calenia phyllogena (Müll.Arg.) R.Sant. [CI, Aust., Extra-Aust.]
Calopadia fusca (Müll.Arg.) Vězda [CI, Aust., Extra-Aust.]
Calopadia nymanii (R.Sant.) Vězda [CI, Extra-Aust.]
Calopadia phyllogena (Müll.Arg.) Vězda [CI, Aust., Extra-Aust.]
Caloplaca bermaguiana S.Y.Kondr. & Kärnefelt [LHI, Aust.]
Caloplaca chrysodeta (Vain. ex Räsänen) Dombr. [NI, Extra-Aust.]
Caloplaca cirrochrooides (Vain.) Zahlbr. [HI, Aust., Extra-Aust.]
Caloplaca cribrosa (Hue) Zahlbr. [MI, HI, Aust., Extra-Aust.]
Caloplaca crozetica Zahlbr. [HI, Extra-Aust.]
Caloplaca depauperata (Müll.Arg.) Zahlbr. [HI, Extra-Aust.]
Caloplaca flavorubescens (Huds.) J.R.Laundon [NI, Aust., Extra-Aust.]
Caloplaca inclinans (Stirt.) Hellb. [MI, Extra-Aust.]
Caloplaca lucens (Nyl.) Zahlbr. [HI, Extra-Aust.]
Caloplaca macquariensis C.W.Dodge [MI]
Caloplaca moorei (Zahlbr.) D.J.Galloway [NI, Extra-Aust.]
Caloplaca norfolkensis Elix, S.Y.Kondr. & Kärnefelt [LHI, NI, Aust.]
Sirenophila [Caloplaca] ovis-atra Søchting, Søgaard & Sancho [MI, Extra-Aust.]
Caloplaca pyracea (Ach.) Th.Fr. [HI, Extra-Aust.]
Caloplaca rexfilsonii S.Y.Kondr. & Kärnefelt [LHI, Aust., Extra-Aust.]
Caloplaca sublobulata (Nyl.) Zahlbr. [HI, Aust., Extra-Aust.]
Candelariella vitellina (Hoffm.) Müll.Arg. [HI, LHI, NI, Aust., Extra-Aust.]
Canoparmelia raunkiaeri (Vain.) Elix & Hale [LHI, Aust., Extra-Aust.]
Canoparmelia texana (Tuck.) Elix & Hale [MI, Aust., Extra-Aust.]
Carbonea assentiens (Nyl.) Hertel [HI, MI, Extra-Aust.]
Carbonea inactiva (Zahlbr.) Hertel [HI, Extra-Aust.]
Carbonea phaeostoma (Nyl.) Hertel [HI, MI, Extra-Aust.]
Catillaria rudolphii C.W.Dodge [MI]
Chiodecton acarosporoides C.W.Dodge [MI]
Chiodecton macquariense C.W.Dodge [MI]
Chrysothrix occidentalis Elix & Kantvilas [NI, Aust., Extra-Aust.]
Chrysothrix xanthina (Vain.) Kalb [NI, Aust., Extra-Aust.]
Cladia aggregata (Sw.) Nyl. [LHI, NI, MI, Aust., Extra-Aust.]
Cladia muelleri (Hampe) Nyl. [LHI, Aust., Extra-Aust.]
Cladonia adspersa Mont. & Bosch [NI, Aust., Extra-Aust.]
Cladonia archeri S.Stenroos [MI]
Cladonia aff. cariosa (Ach.) Spreng. [MI, Extra-Aust.]
Cladonia cervicornis subsp. mawsonii (C.W.Dodge) S.Stenroos & Ahti [MI, Extra-Aust.]
Cladonia cervicornis subsp. verticillata (Hoffm.) Ahti [MI, Aust., Extra-Aust.]
Cladonia chlorophaea (Flörke ex Sommerf.) Spreng. [HI, MI, Aust., Extra-Aust.]
Cladonia confusa R.Sant. f. confusa [LHI, NI, Aust., Extra-Aust.]
Cladonia coniocraea (Flörke) Spreng. [MI, Extra-Aust.]
Cladonia corniculata Ahti & Kashiw. [MI, Aust., Extra-Aust.]
Cladonia cornuta (L.) Hoffm. [MI, Aust., Extra-Aust.]
Cladonia cucullata S.Hammer [LHI, NI, Aust.]
Cladonia ecmocyna Leight. [MI, Aust., Extra-Aust.]
Cladonia fimbriata (L.) Fr. [HI, LHI, MI, Aust., Extra-Aust.]
Cladonia floerkeana (Fr.) Flörke [NI, Aust., Extra-Aust.]
Cladonia fruticulosa Kremp. [NI, Aust., Extra-Aust.]
Cladonia furcata (Huds.) Schrad. [LHI, MI, Aust., Extra-Aust.]
Cladonia imbricata S.Hammer [LHI, Aust., Extra-Aust.]
Cladonia macilenta Hoffm. [NI, Aust., Extra-Aust.]
Cladonia neozelandica Vain. var. neozelandica [MI, Aust., Extra-Aust.]
Cladonia neozelandica var. wilsonii (A.W.Archer) Kantvilas [MI, Aust., Extra-Aust.]
Cladonia ochrochlora Flörke [LHI, NI, Aust., Extra-Aust.]
Cladonia phyllophora (Taylor) C.W.Dodge [HI, Extra-Aust.]
Cladonia pleurota (Flörke) Schaer. [MI, Aust., Extra-Aust.]
Cladonia pocillum (Ach.) O.-J.Rich. [HI, MI, Extra-Aust.]
Cladonia praetermissa A.W.Archer var. praetermissa [NI, Aust., Extra-Aust.]
Cladonia pyxidata (L.) Hoffm. [MI, Aust., Extra-Aust.]
Cladonia rigida (Hook.f. & Taylor) Hampe var. rigida [LHI, Aust., Extra-Aust.]
Cladonia rigida var. acuta (Taylor) A.W.Archer [LHI, NI, Aust., Extra-Aust.]
Cladonia sarmentosa (Hook.f. & Taylor) C.W.Dodge [HI, MI, Aust., Extra-Aust.]
Cladonia scabriuscula (Delise) Nyl. [MI, Aust., Extra-Aust.]
Cladonia subpityrea Sandst. [NI, Aust., Extra-Aust.]
Cladonia subsubulata Nyl. [MI, Aust., Extra-Aust.]
Cladonia tenerrima (Ahti) S.Hammer [MI, Aust., Extra-Aust.]
Cladonia ustulata (Hook.f. & Taylor) Leight. [MI, Aust., Extra-Aust.]
Coccocarpia kerguelensis C.W.Dodge [MI, Extra-Aust.]
Coenogonium flavicans (Vězda & Farkas) Kalb & Lücking [CI, Aust., Extra-Aust.]
Coenogonium implexum Nyl. [NI, MI(?), Aust., Extra-Aust.]
Coenogonium subluteum (Rehm) Kalb & Lücking [CI, Aust., Extra-Aust.]
Collema actinoptychum Nyl. [LHI, Aust., Extra-Aust.]
Collemopsidium heardense (C.W.Dodge & E.D.Rudolph) Øvstedal & Gremmen [HI]
Porina [Collemopsidium] insueta (Nyl.) Müll.Arg. [HI, Extra-Aust.]
Collemopsidium pyrenuloides C.W.Dodge & E.D.Rudolph [HI]
Cratiria lauricassiae (Fée) Marbach [NI, Aust., Extra-Aust.]
Cresponea plurilocularis (Nyl.) Egea & Torrente [CI, LHI, Aust., Extra-Aust.]
Crocodia aurata (Ach.) Link [LHI, NI, Aust., Extra-Aust.]
Crocodia clathrata (De Not.) Trevis. [NI, Extra-Aust.]
Crocodia poculifera (Müll.Arg.) D.J.Galloway & Elix [LHI, NI, Aust., Extra-Aust.]
Cryptothecia bartlettii G.Thor [NI, Extra-Aust.]
Cryptothecia scripta G.Thor [NI, Aust., Extra-Aust.]
Degelia neozelandica (C.W.Dodge) P.M.Jørg. & D.J.Galloway [MI, Aust., Extra-Aust.]
Dichosporidium boschianum (Mont.) G.Thor [CI, Aust., Extra-Aust.]
Diorygma australasicum (Elix) Lücking, Elix & A.W.Archer [NI, Aust.]
Diorygma erythrellum (Mont. & Bosch) Kalb, Staiger & Elix [CI, Extra-Aust.]
Diorygma hieroglyphicum (Pers.) Staiger & Kalb [NI, Aust., Extra-Aust.]
Diorygma rufopruinosum (A.W.Archer) Kalb, Staiger & Elix [NI, Aust., Extra-Aust.]
Diploschistes euganeus (A.Massal.) J.Steiner [NI, Aust., Extra-Aust.]
Dirinaria aegialita (Ach.) B.Moore [NI, Aust., Extra-Aust.]
Dirinaria applanata (Fée) D.D.Awasthi [LHI, NI, Aust., Extra-Aust.]
Dirinaria picta (Sw.) Schaer. ex Clem. [CI, NI, Aust., Extra-Aust.]
Echinoplaca epiphylla Fée [LHI, Aust., Extra-Aust.]
Echinoplaca pellicula (Müll.Arg.) R.Sant. [LHI, Aust., Extra-Aust.]
Endocarpon adscendens (Anzi) Müll.Arg. [CI, Aust., Extra-Aust.]
Endocena informis Cromb. [MI, Extra-Aust.]
Enterographa deslooveri Sérus. [CI, Extra-Aust.]
Ephelidium heardense C.W.Dodge & E.D.Rudolph [HI]
Fellhanera bouteillei (Desm.) Vězda [CI, Aust., Extra-Aust.]
Fellhanera subternella (Nyl.) Vězda [CI, Aust., Extra-Aust.]
Fellhaneropsis subantarctica Øvstedal [HI, Extra-Aust.]
Fissurina howeana (A.W.Archer) A.W.Archer [LHI]
Flavoparmelia euplecta (Stirt.) Hale [LHI, NI, Aust.]
Flavoparmelia haysomii (C.W.Dodge) Hale [LHI, MI, Aust., Extra-Aust.]
Flavoparmelia norfolkensis Elix & Streimann [NI]
Fuscidea asbolodes (Nyl.) Hertel & V.Wirth [HI, MI, Aust., Extra-Aust.]
Gassicurtia subpulcella Marbach [LHI, Extra-Aust.]
Gassicurtia vaccinii (Vain.) Marbach, Elix & Kalb [LHI, Aust., Extra-Aust.]
Gintarasia lordhowensis (Mangold) Kraichak, Lücking & Lumbsch [LHI, Aust.]
Glyphis cicatricosa Ach. [CI, NI, Aust., Extra-Aust.]
Glyphis scyphulifera (Ach.) Staiger [NI, Aust., Extra-Aust.]
Graphis caesiella Vain. [LHI, NI, Aust., Extra-Aust.]
Graphis crassilabra Müll.Arg. [NI, Aust., Extra-Aust.]
Graphis crebra Vain. [LHI, NI, Aust., Extra-Aust.]
Graphis descissa Müll.Arg. [CI, Aust.]
Graphis furcata Fée [LHI, Aust., Extra-Aust.]
Graphis immersella Müll.Arg. [CI, Aust.]
Graphis intricata Fée [LHI, Aust., Extra-Aust.]
Graphis librata C.Knight [LHI, Aust., Extra-Aust.]
Graphis nakanisheana Patw. & Kulkarni [CI, Extra-Aust.]
Graphis seminuda Müll.Arg. [LHI, Aust., Extra-Aust.]
Graphis subvelata Stirt. [NI, Aust., Extra-Aust.]
Graphis vittata Müll.Arg. [CI, Aust., Extra-Aust.]
Gyalectidium filicinum Müll.Arg. [LHI, NI, Aust., Extra-Aust.]
Gyalideopsis heardense Øvstedal [HI]
Haematomma erythromma (Nyl.) Zahlbr. [HI, Extra-Aust.]
Haematomma fenzlianum A.Massal. [LHI, Extra-Aust.]
Halegrapha mucronata (Stirt.) Lücking [NI, Aust., Extra-Aust.]
Herpothallon echinatum Aptroot, Lücking & Will-Wolf [NI, Aust., Extra-Aust.]
Heterodermia subcomosa (Nyl.) Elix [NI, Extra-Aust.]
Hyperphyscia adglutinata (Flörke) H.Mayrhofer & Poelt [NI, Aust., Extra-Aust.]
Hypogymnia lugubris (Pers.) Krog [MI, Aust., Extra-Aust.]
Hypogymnia turgidula (Bitter) Elix [MI, Aust., Extra-Aust.]
Hypotrachyna brevirhiza (Kurok.) Hale [MI, Extra-Aust.]
Hypotrachyna sinuosa (Sm.) Hale [MI, Aust., Extra-Aust.]
Immersaria athroocarpa (Ach.) Rambold & Pietschm. [MI, Aust., Extra-Aust.]
Ionaspis kerguelensis C.W.Dodge [HI, Extra-Aust.]
Lasioloma arachnoideum (Kremp.) R.Sant. [CI, Aust., Extra-Aust.]
Lecania heardensis C.W.Dodge [HI]
Lecania johnstonii C.W.Dodge [MI]
Lecanora atrocaesia Nyl. [HI, Extra-Aust.]
Lecanora austrotropica Lumbsch [NI, Aust.]
Lecanora brownii C.W.Dodge [MI]
Lecanora disjungenda (Cromb.) Hertel & Rambold [HI, Extra-Aust.]
Lecanora dissoluta Nyl. [NI, Aust., Extra-Aust.]
Lecanora elixii Lumbsch [HI, Aust.]
Lecanora epibryon (Ach.) Ach. subsp. broccha (Nyl.) Lumbsch [MI, Aust., Extra-Aust.]
Lecanora flotowiana Spreng. [HI, Extra-Aust.]
Lecanora helva Stizenb. [LHI, NI, Aust., Extra-Aust.]
Lecanora melacarpella Müll.Arg. [LHI, NI, Aust., Extra-Aust.]
Lecanora plumosa Müll.Arg. [LHI, Aust., Extra-Aust.]
Lecanora prolifera C.W.Dodge [MI]
Lecanora pseudistera Nyl. [NI, Aust., Extra-Aust.]
Lecanora subcoarctata (C.Knight) Hertel [NI, Aust., Extra-Aust.]
Lecanora zosterae (Ach.) Nyl. [HI, Extra-Aust.]
Lecidea charadrodes Zahlbr. [MI, Extra-Aust.]
Lecidea haysomii C.W.Dodge [MI]
Lecidea interstita Nyl. [HI, Extra-Aust.]
Lecidea lygomma Nyl. ex Cromb. [HI, MI, Aust., Extra-Aust.]
Lecidea macquariensis C.W.Dodge [MI]
Lecidea medusula (C.W.Dodge) Hertel [HI, Extra-Aust.]
Lecidea subassentiens Nyl. [HI, Extra-Aust.]
Lecidea sublygomma Zahlbr. [HI, Extra-Aust.]
Lecidea subplana Nyl. [HI, Extra-Aust.]
Lecidea superjecta Nyl. [HI, Extra-Aust.]
Lecidea werthii Zahlbr. [HI, Extra-Aust.]
Lecidella elaeochroma (Ach.) M.Choisy [MI, Aust., Extra-Aust.]
Lecidella enteroleucella (Nyl.) Hertel [NI, LHI, Aust., Extra-Aust.]
Lecidella granulosula (Nyl.) Knoph & Leuckert [NI, Aust., Extra-Aust.]
Leifidium tenerum (Laurer) Wedin [MI, Aust., Extra-Aust.]
Leioderma duplicatum (Müll.Arg.) D.J.Galloway & P.M.Jørg. [NI, Aust., Extra-Aust.]
Lepidocollema brisbanense (C.Knight) P.M.Jørg. [CI, Aust.]
Lepidocollema marianum (Fr.) P.M.Jørg. [NI, Aust., Extra-Aust.]
Lepraria aff. atlantica Orange [HI, Aust., Extra-Aust.]
Lepraria coriensis (Hue) Sipman [NI, Aust., Extra-Aust.]
Lepraria cupressicola (Hue) J.R.Laundon [NI, Aust., Extra-Aust.]
Lepraria finkii (B. de Lesd.) R.C.Harris. [NI, Aust., Extra-Aust.]
Lepraria jackii Tønsberg [NI, Aust., Extra-Aust.]
Lepraria neglecta (Nyl.) Erichsen [HI, Aust., Extra-Aust.]
Lepraria nivalis J.R.Laundon [HI, Extra-Aust.]
Leptogium azureum (Sw. ex Ach.) Mont. [CI, Aust., Extra-Aust.]
Leptogium brebissonii Mont. [NI, Extra-Aust.]
Leptogium crispatellum Nyl. [HI, Extra-Aust.]
Leptogium cyanescens (Rabenh.) Körb. [LHI, NI, Aust., Extra-Aust.]
Leptogium pellobatum Verdon [CI, Aust.]
Leptogium phyllocarpum (Pers.) Mont. var. phyllocarpum [CI, Aust., Extra-Aust.]
Leptogium poliophaeum Verdon [CI, Aust.]
Leptogium puberulum Hue [HI, Extra-Aust.]
Leptogium wilsonii Zahlbr. [CI, Aust.]
Letrouitia bifera (Nyl.) Hafellner [LHI, NI, Aust., Extra-Aust.]
Letrouitia parabola (Nyl.) R.Sant. & Hafellner [CI, Aust., Extra-Aust.]
Letrouitia pseudomuralis Hafellner [NI, Extra-Aust.]
Letrouitia vulpina (Tuck.) Hafellner & Bellem. [CI, Aust., Extra-Aust.]
Leucodecton subcompunctum (Nyl.) A.Frisch [LHI, Aust., Extra-Aust.]
Lichina antarctica Cromb. [HI, Extra-Aust.]
Lithothelium austropacificum P.M.McCarthy [LHI]
Lithothelium obtectum (Müll.Arg.) Aptroot [CI, LHI, Extra-Aust.]
Lithothelium quiescens P.M.McCarthy [CI]
Lobaria patinifera (Taylor) Hue [NI, Aust., Extra-Aust.]
Mangoldia atronitens (A.W.Archer) Lücking, Parnmen & Lumbsch [NI, Aust.]
Massalongia carnosa (Dicks.) Körb. [HI, Aust., Extra-Aust.]
Mastodia tessellata (Hook.f. &Harv.) Hook.f. &Harv. [HI, MI, Aust., Extra-Aust.]
Mazosia melanophthalma (Müll.Arg.) R.Sant. [CI, Aust., Extra-Aust.]
Mazosia phyllosema (Nyl.) Zahlbr. [CI, Aust., Extra-Aust.]
Megalaria grossa (Pers. ex Nyl.) Hafellner [NI, MI, Aust., Extra-Aust.]
Megalaria versicolor (Flot.) Kalb, Hafellner, Fryday & Lendemer [NI, Aust., Extra-Aust.]
Megalospora atrorubicans (Nyl.) Zahlbr. subsp. australis Sipman [LHI, Aust., Extra-Aust.]
Megalospora gompholoma subsp. fuscolineata Sipman [LHI, Aust.]
Megalospora lopadioides Sipman [MI, Aust., Extra-Aust.]
Menegazzia castanea P.James & D.J.Galloway [MI, Aust., Extra-Aust.]
Menegazzia eperforata P.James & D.J.Galloway [LHI, Aust., Extra-Aust.]
Menegazzia lordhowensis Elix [LHI]
Menegazzia subpertusa P.James & D.J.Galloway [MI, Aust., Extra-Aust.]
Micarea turfosa (A.Massal.) Du Rietz [HI, Aust., Extra-Aust.]
Monerolechia badia (Fr.) Kalb [LHI, Aust., Extra-Aust.]
Mycobilimbia subbyssoidea Øvstedal [HI]
Mycoblastus campbellianus (Nyl.) Zahlbr. [MI, Extra-Aust.]
Mycoblastus coniophorus (Elix & A.W.Archer) Kantvilas & Elix [MI, Aust., Extra-Aust.]
Mycoblastus dissimulans (Nyl.) Zahlbr. [LHI, Aust., Extra-Aust.]
Myelochroa aurulenta (Tuck.) Elix & Hale [LHI, Aust., Extra-Aust.]
Myriotrema phaeosporum (Nyl.) Hale [LHI, NI, Aust., Extra-Aust.]
Notolecidea subcontinua (Nyl.) Hertel [HI, Extra-Aust.]
Notoparmelia cunninghamii Cromb. [MI, Aust.]
Notoparmelia erumpens Kurok. [LHI, NI, Aust., Extra-Aust.]
Notoparmelia queenslandensis Hale [LHI, Aust.]
Notoparmelia signifera Nyl. [MI, Aust., Extra-Aust.]
Notoparmelia tenuirima Hook.f. & Taylor [MI, Aust., Extra-Aust.]
Ochrolechia africana Vain. [LHI, Aust., Extra-Aust.]
Ochrolechia harmandii var. oceanica (Räsänen) Verseghy [LHI, Extra-Aust.]
Ochrolechia pallescens (L.) A.Massal. [NI, Aust., Extra-Aust.]
Ochrolechia parella (L.) A.Massal. [MI, Aust., Extra-Aust.]
Ochrolechia xanthostoma (Sommerf.) K.Schmitz & Lumbsch [MI, Aust., Extra-Aust.]
Opegrapha diaphoriza Nyl. [MI, Extra-Aust.]
Opegrapha semiatra Müll.Arg. [NI, Aust., Extra-Aust.]
Opegrapha aff. vegae R.Sant. [CI, Extra-Aust.]
Orceolina kerguelensis (Tuck.) Hertel [HI, Extra-Aust.]
Pallidogramme chlorocarpoides (Nyl.) Staiger [CI, Aust., Extra-Aust.]
Pannaria centrifuga P.M.Jørg. [LHI, Aust., Extra-Aust.]
Pannaria dichroa (Hook.f. & Taylor) Cromb. [HI, Extra-Aust.]
Pannaria elatior Stirt. [NI, Aust., Extra-Aust.]
Pannaria elixii P.M.Jørg. & D.J.Galloway [NI, Aust., Extra-Aust.]
Pannaria fulvescens (Mont.) Nyl. [NI, Aust., Extra-Aust.]
Pannaria globigera Hue [NI, Aust., Extra-Aust.]
Pannaria howeana Elvebakk [LHI]
Pannaria lurida (Mont.) Nyl. [NI, Aust., Extra-Aust.]
Pannaria prolifera Müll.Arg. [NI, Aust., Extra-Aust.]
Pannaria pulvinula P.M.Jørg. [HI, Extra-Aust.]
Pannaria reflectens (Nyl.) P.M.Jørg. [NI, Aust., Extra-Aust.]
Pannaria streimannii Elvebakk [LHI]
Parmelia sulcata Taylor [MI, Aust., Extra-Aust.]
Parmeliella aggregata P.M.Jørg. & D.J.Galloway [NI, Aust., Extra-Aust.]
Parmeliella gymnocheila (Nyl.) Müll.Arg. [MI, Aust.]
Parmelinopsis spumosa (Asahina) Elix & Hale [NI, Aust., Extra-Aust.]
Parmotrema adspersum (Vain.) Elix [CI, Extra-Aust.]
Parmotrema austrocetratum (Elix & J.Johnst.) Elix & J.Johnst. [LHI, NI, Aust., Extra-Aust.]
Parmotrema austrosinense (Zahlbr.) Hale [LHI, Aust., Extra-Aust.]
Parmotrema cetratum (Ach.) Hale [LHI, Aust., Extra-Aust.]
Parmotrema clavuliferum (Räsänen) Streimann [NI, Aust., Extra-Aust.]
Parmotrema crinitoides C.J.Wei [NI, Aust., Extra-Aust.]
Parmotrema crinitum (Ach.) M.Choisy [LHI, NI, Aust., Extra-Aust.]
Parmotrema cristiferum (Taylor) Hale [CI, LHI, NI, Aust., Extra-Aust.]
Parmotrema defectum (Hale) Hale [LHI, Extra-Aust.]
Parmotrema gardneri (C.W.Dodge) Sérus. [CI, LHI, NI, Aust., Extra-Aust.]
Parmotrema maclayanum (Müll.Arg.) Hale [NI, Aust., Extra-Aust.]
Parmotrema paracrinitum Elix [NI, Aust.]
Parmotrema perlatum (Huds.) M.Choisy[NI, Aust., Extra-Aust.]
Parmotrema rampoddense (Nyl.) Hale [NI, Aust., Extra-Aust.]
Parmotrema reticulatum (Taylor) M.Choisy [LHI, NI, MI, Aust., Extra-Aust.]
Parmotrema saccatilobum (Taylor) Hale [NI, Aust., Extra-Aust.]
Parmotrema sancti-angelii (Lynge) Hale [NI, Aust., Extra-Aust.]
Parmotrema sticticum (Louwhoff & Elix) O.Blanco, A.Crespo, Divakar, Elix & Lumbsch [LHI]
Parmotrema tinctorum (Despr. ex Nyl.) Hale [CI, LHI, NI, Aust., Extra-Aust.]
Paulia caespitosa Tretiach & Henssen [LHI, Extra-Aust.]
Peltigera aubertii C.W.Dodge [HI, Extra-Aust.]
Peltigera extenuata (Nyl. ex Vain.) Lojka [MI, Aust., Extra-Aust.]
Peltigera lairdii C.W.Dodge & E.D.Rudolph [MI]
Peltigera polydactylon (Neck.) Hoffm. [MI, Aust., Extra-Aust.]
Peltigera rufescens (Weis) Humb. [HI ("aff"), MI, Aust., Extra-Aust.]
Peltigera aff. truculenta De Not. [HI, Extra-Aust.]
Peltula bolanderi (Tuck.) Wetmore [NI, Aust., Extra-Aust.]
Peltularia crassa P.M.Jørg. & D.J.Galloway [MI, Extra-Aust.]
Pertusaria amnicola Elix & A.W.Archer [LHI]
Pertusaria cryptostoma Müll.Arg. [LHI, Aust., Extra-Aust.]
Pertusaria cyathicola Elix [NI]
Pertusaria dactylina (Ach.) Nyl. [MI, Extra-Aust.]
Pertusaria dehiscens Müll.Arg. var. dehiscens [LHI, NI, Aust., Extra-Aust.]
Pertusaria elliptica Müll.Arg. var. elliptica [LHI, Aust., Extra-Aust.]
Pertusaria globospora A.W.Archer [NI]
Pertusaria hadrocarpa Zahlbr. [LHI, Aust., Extra-Aust.]
Pertusaria heinarii A.W.Archer & Elix [NI]
Pertusaria lavata Müll.Arg. [LHI, Aust., Extra-Aust.]
Pertusaria leioplacella Nyl. [LHI, Aust., Extra-Aust.]
Pertusaria lophocarpa Körb. [MI, Aust., Extra-Aust.]
Pertusaria lordhowensis A.W.Archer & Elix [LHI, Aust.]
Pertusaria malabara A.W.Archer & Elix [LHI]
Pertusaria maritima A.W.Archer & Elix [LHI, Aust.]
Pertusaria miniatescens A.W.Archer & Elix [LHI]
Pertusaria montpittensis A.W.Archer [LHI, NI, Aust., Extra-Aust.]
Pertusaria nebulosa A.W.Archer [NI, Aust.]
Pertusaria norfolkensis A.W.Archer [NI]
Pertusaria oblongata Müll.Arg. [LHI, Aust., Extra-Aust.]
Pertusaria petrophyes C.Knight [LHI, Aust., Extra-Aust.]
Pertusaria psoromica A.W.Archer & Elix [NI, Aust., Extra-Aust.]
Pertusaria puffina A.W.Archer & Elix [LHI, Aust., Extra-Aust.]
Pertusaria scaberula A.W.Archer [NI, Aust., Extra-Aust.]
Pertusaria sublacerans A.W.Archer [LHI, NI, Aust., Extra-Aust.]
Pertusaria subrigida Müll.Arg. [LHI, Aust.]
Pertusaria subventosa Malme var. subventosa [LHI, Aust., Extra-Aust.]
Pertusaria subventosa var. deficiens A.W.Archer & Elix [LHI, Aust., Extra-Aust.]
Pertusaria thiospoda C.Knight [LHI, NI, Aust., Extra-Aust.]
Pertusaria verdonii A.W.Archer [NI, Aust.]
Pertusaria xanthoplaca Müll.Arg. [LHI, NI, Aust., Extra-Aust.]
Peterjamesia circumscripta (Taylor) D.Hawksw. [LHI, Extra-Aust.]
Pallidogramme chlorocarpoides (Nyl.) Staiger, Kalb & Lücking [CI, Aust., Extra-Aust.]
Phaeographis ceratoides (Vain.) Zahlbr. [NI, Aust., Extra-Aust.]
Phylloblastia mucronata (P.M.McCarthy) Lücking [CI, LHI, Extra-Aust.]
Phyllopsora breviuscula Müll.Arg. var. javanica [CI, Extra-Aust.]
Phyllopsora buettneri (Müll.Arg.) Zahlbr. [NI, Aust., Extra-Aust.]
Phyllopsora confusa Swinsc. & Krog [NI, Aust., Extra-Aust.]
Phyllopsora foliata (Stirt.) Zahlbr. var. foliata [LHI, NI, Aust.]
Phyllopsora foliatella Elix [LHI, NI, Aust.]
Phyllopsora furfuracea (Pers.) Zahlbr. [LHI, Aust.]
Phyllopsora neofoliata Elix [LHI, Aust.]
Phyllopsora parvifolia (Pers.) Müll.Arg. var. parvifolia [NI, Aust., Extra-Aust.]
Phyllopyrenia macquariensis C.W.Dodge [MI]
Physcia adscendens (Fr.) H.Olivier [MI, Aust., Extra-Aust.]
Physcia atrostriata Moberg [CI, Aust., Extra-Aust.]
Physcia integrata Nyl. [CI, Aust., Extra-Aust.]
Physcia macquariensis C.W.Dodge [MI]
Physcia poncinsii Hue [NI, Aust., Extra-Aust.]
Physcia sorediosa (Vain.) Lynge [LHI, NI, Aust., Extra-Aust.]
Physcia undulata Moberg [CI, Aust., Extra-Aust.]
Physma byrsaeum (Ach.) Tuck. [CI, NI, Aust., Extra-Aust.]
Placopsis bicolor (Tuck.) de Lesd. [HI, Extra-Aust.]
Placopsis fusciduloides D.J.Galloway [HI ("aff."), Extra-Aust.]
Placopsis gelida (L.) Lindsay [HI, Aust., Extra-Aust.]
Placopsis perrugosa (Nyl.) Nyl. [MI, Aust., Extra-Aust.]
Placopsis stenophylla (Hue) I.M.Lamb [HI, Extra-Aust.]
Poeltinula cerebrinella (Nyl.) Øvstedal [HI, Extra-Aust.]
Porina adflata Müll.Arg. [CI, Extra-Aust.]
Porina africana Müll.Arg. [CI, Aust., Extra-Aust.]
Porina albicera (Kremp.) Overeem [CI, Aust., Extra-Aust.]
Porina aluniticola P.M.McCarthy [LHI, Aust.]
Porina atrocoerulea Müll.Arg. [CI, Aust., Extra-Aust.]
Porina austropacifica P.M.McCarthy [NI]
Porina bellendenica Müll.Arg. [CI, Aust., Extra-Aust.]
Porina cestrensis (Tuck. ex Mich.) Müll.Arg. [CI, Extra-Aust.]
Porina chlorotica (Ach.) Müll.Arg. f. chlorotica [CI, LHI, MI, Aust., Extra-Aust.]
Porina deminuta P.M.McCarthy [CI, Extra-Aust.]
Porina eminentior (Nyl.) P.M.McCarthy f. eminentior [CI, LHI, Aust., Extra-Aust.]
Porina epiphylla (Fée) Fée [CI, Aust., Extra-Aust.]
Porina exocha (Nyl.) P.M.McCarthy [NI, Aust., Extra-Aust.]
Porina guentheri (Flot.) Zahlbr. var. guentheri [MI, Aust., Extra-Aust.]
Porina howeana P.M.McCarthy [LHI]
Porina leptalea (Durieu & Mont.) A.L.Sm. [CI, LHI, MI, Aust., Extra-Aust.]
Porina leptosperma Müll.Arg. [CI, Aust., Extra-Aust.]
Porina mariae P.M.McCarthy [LHI]
Porina mastoidea (Ach.) Müll.Arg. [CI, LHI, Aust., Extra-Aust.]
Porina mastoidella (Nyl.) Müll.Arg. [CI, Aust., Extra-Aust.]
Porina minutissima Henssen, Lücking & Vězda [CI, Aust., Extra-Aust.]
Porina nucula Ach. [CI, Aust., Extra-Aust.]
Porina ocellatoides P.M.McCarthy [LHI]
Porina pallescens R.Sant. [CI, Extra-Aust.]
Porina papuensis P.M.McCarthy [CI, Aust., Extra-Aust.]
Porina pelochroa Müll.Arg. [CI, Extra-Aust.]
Porina perminuta Vain. [CI, Aust., Extra-Aust.]
Porina rudiuscula (Nyl.) Müll.Arg. [CI, Extra-Aust.]
Porina rufula (Kremp.) Vain. [CI, LHI, Aust., Extra-Aust.]
Porina tahitiensis (Räsänan) P.M.McCarthy [LHI, Extra-Aust.]
Porina tetracerae (Ach.) Müll.Arg. var. tetracerae [CI, Aust., Extra-Aust.]
Porina tetracerae var. persimilis (Müll.Arg.) P.M.McCarthy [CI, Aust., Extra-Aust.]
Porpidia crustulata (Ach.) Hertel & Knoph [MI, Aust., Extra-Aust.]
Porpidia stephanodes (Stirt.) Hertel [HI, MI, Extra-Aust.]
Protopannaria azorellae P.M.Jørg. & R.S.Poulsen [HI, Extra-Aust.]
Pseudocyphellaria carpoloma (Delise) Vain. [LHI, NI, Extra-Aust.]
Pseudocyphellaria chloroleuca (Hook.f. & Taylor) Du Rietz [LHI, NI, Extra-Aust.]
Pseudocyphellaria crocata (L.) Vain. [LHI, NI, Aust., Extra-Aust.]
Pseudocyphellaria dissimilis (Nyl.) D.J.Galloway & P.James [NI, Aust., Extra-Aust.]
Pseudocyphellaria glabra (Hook.f. & Taylor) C.W.Dodge [LHI, MI, Aust., Extra-Aust.]
Pseudocyphellaria glaucescens (Kremp.) Imshaug [LHI, Aust.]
Pseudocyphellaria haywardiorum D.J.Galloway [NI, Aust., Extra-Aust.]
Pseudocyphellaria intricata (Delise) Vain. [NI, Aust., Extra-Aust.]
Pseudocyphellaria mooreana (Zahlbr.) Imshaug [LHI, Extra-Aust.]
Pseudocyphellaria pickeringii (Tuck.) D.J.Galloway [LHI, NI, Aust., Extra-Aust.]
Pseudocyphellaria prolificans (Nyl.) Vain. [LHI, Aust., Extra-Aust.]
Pseudocyphellaria rubrina (Stirt.) D.J.Galloway [LHI, Aust.]
Psilolechia leprosa Coppins & Purvis [HI, Extra-Aust.]
Psoroma absconditum Øvstedal [HI, Extra-Aust.]
Psoroma hypnorum (M.Vahl) S.F.Gray var. hypnorum [MI, Aust., Extra-Aust.]
Psoroma macquariense C.W.Dodge [MI]
Psoroma xanthorioides (P.M.Jørg.) P.M.Jørg. [HI]
Psoromaria versicolor (Hook.f. & Taylor) P.M.Jørg. & H.L.Andersen [MI, Aust., Extra-Aust.]
Pyrenula anomala (Ach.) Vain. [LHI, NI, Aust., Extra-Aust.]
Pyrenula aspistea (Ach.) Ach. [NI, Aust., Extra-Aust.]
Pyrenula concatervans (Nyl.) R.C.Harris [CI, LHI, NI, Aust., Extra-Aust.]
Pyrenula confinis (Nyl.) R.C.Harris [CI, Aust., Extra-Aust.]
Pyrenula cruenta (Mont.) Vain. [NI, Aust., Extra-Aust.]
Pyrenula howeana Aptroot [LHI]
Pyrenula macularis (Zahlbr.) R.C.Harris [CI, Aust., Extra-Aust.]
Pyrenula mamillana (Ach.) Vain. [NI, Aust., Extra-Aust.]
Pyrenula massariospora (Starb.) R.C.Harris. [NI, Aust., Extra-Aust.]
Pyrenula microcarpa Müll.Arg. [LHI, NI, Aust., Extra-Aust.]
Pyrenula neoculata Aptroot [LHI, NI, Aust., Extra-Aust.]
Pyrenula nitidula (Bres.) R.C.Harris [LHI, NI, Aust., Extra-Aust.]
Pyrenula ochraceoflava (Nyl.) R.C.Harris var. ochraceoflava [Cocos (Keeling) Is., CI, Aust., Extra-Aust.]
Pyrenula parvinuclea (Meyen & Flot.) Aptroot [CI, Aust., Extra-Aust.]
Pyrenula pyrenuloides (Mont.) R.C.Harris [NI, Aust., Extra-Aust.]
Pyrenula quassiaecola Fée [LHI, NI, Aust., Extra-Aust.]
Pyrenula subcongruens Müll.Arg. [LHI, NI, Aust., Extra-Aust.]
Pyxine cocoes (Sw.) Nyl. [CI, LHI, NI, Aust., Extra-Aust.]
Pyxine retirugella Nyl. [CI, Aust., Extra-Aust.]
Ramalina australiensis Nyl. [NI, Aust.]
Ramalina celastri (Spreng.) Krog & Swinscow [LHI, Aust., Extra-Aust.]
Ramalina dumeticola Krog & Swinscow [CI, Aust., Extra-Aust.]
Ramalina erumpens Blanchon, Braggins & A.Stewart var. erumpens [MI, Extra-Aust.]
Ramalina exiguella Stirt. [NI, Aust., Extra-Aust.]
Ramalina leiodea (Nyl.) Nyl. [LHI, NI, Aust., Extra-Aust.]
Ramalina meridionalis Blanchon & Bannister [LHI, NI, Extra-Aust.]
Ramalina nervulosa (Müll.Arg.) Abbayes [NI, Aust., Extra-Aust.]
Ramalina pacifica Asahina [CI, LHI, NI, Aust., Extra-Aust.]
Ramalina peruviana Ach. [LHI, NI, Aust., Extra-Aust.]
Ramalina stevensiae Elix [NI]
Ramalina unilateralis F.Wilson [MI, Aust., Extra-Aust.]
Ramalina zollingeri Szat. [CI, Extra-Aust.]
Relicina filsonii Elix & J.Johnst. [LHI, Aust.]
Rhizocarpon johnstonii C.W.Dodge [HI, Extra-Aust.]
Rhizocarpon kerguelense C.W.Dodge [HI, Extra-Aust.]
Rhizocarpon mawsonii C.W.Dodge [HI, Extra-Aust.]
Rhizocarpon nidificum (Hue) Darb. [HI, Extra-Aust.]
Rhizocarpon reductum Th. Fr. [MI, Aust., Extra-Aust.]
Rimularia psephota (Tuck.) Hertel & Rambold [MI, Aust., Extra-Aust.]
Rinodina blastidiata Matzer & H.Mayrhofer [NI, Aust., Extra-Aust.]
Rinodina confragosula (Nyl.) Müll.Arg. [LHI, Aust., Extra-Aust.]
Rinodina moziana (Nyl.) Zahlbr. var. moziana [NI, Aust., Extra-Aust.]
Rinodina occulta (Körb.) Sheard [LHI, Aust., Extra-Aust.]
Rinodina otagensis (Zahlbr.) H.Mayrhofer [HI, Extra-Aust.]
Rinodina oxydata (A.Massal.) A.Massal. [LHI, NI, Aust., Extra-Aust.]
Rinodina peloleuca (Nyl.) Müll.Arg. [HI, MI, Aust., Extra-Aust.]
Rinodina xanthomelana Müll.Arg. [LHI, Aust., Extra-Aust.]
Rinodinella fertilis (Körb.) Elix var. fertilis [NI, Aust., Extra-Aust.]
Sarcographa labyrinthica (Ach.) Müll.Arg. [NI, Aust., Extra-Aust.]
Schismatomma insulae-howense (Sparrius) Tehler & Ertz [LHI]
Schizotrema zebrinum Mangold [LHI, Aust.]
Siphulastrum cladinoides C.W.Dodge [?HI, MI]
Siphulastrum mamillatum (Hook.f. & Taylor) D.J.Galloway [HI, MI, Aust., Extra-Aust.]
Siphulastrum usneoides C.W.Dodge [MI]
Sporastatia desmaspora (C.Knight) C.W.Dodge [MI, Extra-Aust.]
Sporopodium flavescens (R.Sant.) Vězda [CI, NI, Aust., Extra-Aust.]
Sporopodium phyllocharis (Mont.) A.Massal. [CI, Aust., Extra-Aust.]
Sporopodium xantholeucum (Müll.Arg.) Zahlbr. [CI, Aust., Extra-Aust.]
Squamarina haysomii C.W.Dodge [MI]
Steinera glaucella (Tuck.) C.W.Dodge [HI, Extra-Aust.]
Steinera werthii Zahlbr. [HI, Extra-Aust.]
Stephanocyclos henssenianus Hertel [HI, Aust., Extra-Aust.]
Stereocaulon argus Hook.f. & Taylor [MI, Extra-Aust.]
Stereocaulon corticatulum Nyl. var. corticatulum [MI, Aust., Extra-Aust.]
Stereocaulon cymosum Cromb. [HI, Extra-Aust.]
Stereocaulon heardii Øvstedal [HI]
Stereocaulon ramulosum (Sw.) Räusch. [MI, Aust., Extra-Aust.]
Sticta brevipes (Müll.Arg.) Zahlbr. [NI, Aust., Extra-Aust.]
Sticta caliginosa D.J.Galloway [NI, Extra-Aust.]
Sticta flavocyphellata D.J.Galloway [LHI]
Sticta howei D.J.Galloway [LHI]
Sticta latifrons A.Rich. [LHI, Aust., Extra-Aust.]
Sticta martinii D.J.Galloway [MI, Aust., Extra-Aust.]
Sticta weigelii (Ach.) Vain. [NI, Aust., Extra-Aust.]
Strigula bermudana (Tuck. ex Nyl.) R.C.Harris [CI, Extra-Aust.]
Strigula concreta (Fée) R.Sant. [CI, Aust., Extra-Aust.]
Strigula decipiens (Malme) P.M.McCarthy [LHI, Aust., Extra-Aust.]
Strigula delicatula Sérus. [LHI, Extra-Aust.]
Strigula elixii P.M.McCarthy [CI]
Strigula fossulicola P.M.McCarthy, Streimann & Elix [LHI]
Strigula fractans P.M.McCarthy [LHI, Aust.]
Strigula maculata (Cooke & Massee) R.Sant. [LHI, Aust., Extra-Aust.]
Strigula natalis P.M.McCarthy [CI]
Strigula nitidula Mont. [LHI, Aust., Extra-Aust.]
Strigula oceanica P.M.McCarthy, Streimann & Elix [LHI, Extra-Aust.]
Strigula phyllogena (Müll.Arg.) R.C.Harris [CI, Aust., Extra-Aust.]
Strigula rupestris P.M.McCarthy [LHI]
Strigula smaragdula Fr. : Fr. [CI, LHI, NI, Aust., Extra-Aust.]
Strigula subtilissima (Fée) Müll.Arg. [CI, Aust., Extra-Aust.]
Strigula viridiseda (Nyl.) R.C.Harris [CI, Extra-Aust.]
Teloschistes flavicans (Sw.) Norman [NI, Aust., Extra-Aust.]
Tephromela atra (Huds.) Hafellner [LHI, HI, MI, Aust., Extra-Aust.]
Tephromela atrocaesia (Nyl. ex Cromb.) Fryday [HI, Extra-Aust.]
Tephromela korundensis (Räsänen) Kalb [LHI, Aust.]
Thamnolia vermicularis (Sw.) Schaer. var. vermicularis [MI, Aust., Extra-Aust.]
Thecaria montagnei (Bosch) Staiger [NI, Aust., Extra-Aust.]
Thecaria quassiicola Fée [NI, Aust., Extra-Aust.]
Thelenella brasiliensis (Müll.Arg.) Vain. [CI, Aust., Extra-Aust.]
Thelenella kerguelena (Nyl.) H.Mayrhofer [HI, Extra-Aust.]
Thelenella mawsonii (C.W.Dodge) H.Mayrhofer & P.M.McCarthy [HI, MI, Extra-Aust.]
Thelidium heardense C.W.Dodge [HI]
Thelidium praevalescens (Nyl.) Zahlbr. [HI, MI, Extra-Aust.]
Thelotrema defossum (Müll.Arg.) Mangold [LHI, Aust., Extra-Aust.]
Thelotrema lepadinum (Ach.) Ach. [LHI, Aust., Extra-Aust.]
Thelotrema nureliyum Hale [LHI, Aust., Extra-Aust.]
Thelotrema pseudosubtile Mangold [LHI, Aust.]
Thelotrema saxatile C.Knight [LHI, Aust., Extra-Aust.]
Topelia rosea (Servít) P.M.Jørg. & Vězda [LHI, Extra-Aust.]
Trapelia coarctata (Sm.) M.Choisy [MI, Aust., Extra-Aust.]
Tremolecia atrata (Ach.) Hertel [HI, Aust., Extra-Aust.]
Trichothelium javanicum (F.Schill.) Vězda [CI, LHI, Aust., Extra-Aust.]
Trichothelium oceanicum P.M.McCarthy [CI]
Umbilicaria decussata (Vill.) Zahlbr. [HI, Aust., Extra-Aust.]
Usnea angulata Ach. [NI, Aust., Extra-Aust.]
Usnea antarctica Du Rietz [HI, McDonald Is., MI, Extra-Aust.]
Usnea arida Motyka var. muscicola C.W.Dodge [MI]
Usnea articulata (L.) Hoffm. [MI, Aust., Extra-Aust.]
Usnea baileyi (Stirt.) Zahlbr. [LHI, Aust., Extra-Aust.]
Usnea floriformis C.W.Dodge [HI]
Usnea nidifica Taylor [NI, Aust., Extra-Aust.]
Usnea propagulifera C.W.Dodge [HI]
Usnea rubrotincta Stirt. [NI, MI, Aust., Extra-Aust.]
Usnea tamborensis (Hepp) Motyka [NI, Extra-Aust.]
Usnea taylorii Hook.f. [HI, Extra-Aust.]
Usnea trachycarpa (Stirt.) Müll.Arg. [HI, Extra-Aust.]
Usnea trichodeoides Vain. [NI, Aust., Extra-Aust.]
Usnea vriesiana Mont. & Bosch [LHI, Extra-Aust.]
Usnea xanthopoga Nyl. [MI, Aust., Extra-Aust.]
Varicellaria velata (Turner) Schmitt & Lumbsch [NI, Aust., Extra-Aust.]
Verrucaria aethiobola Wahlenb. [HI, Aust., Extra-Aust.]
Verrucaria aethioboliza Nyl. [HI, Extra-Aust.]
Verrucaria bubalina P.M.McCarthy [MI, Extra-Aust.]
Verrucaria ceuthocarpa Wahlenb. [HI, Extra-Aust.]
Verrucaria durietzii I.M.Lamb [HI, MI, Extra-Aust.]
Verrucaria fuscella (Turner) Ach. [CI, Extra-Aust.]
Verrucaria howensis P.M.McCarthy [LHI, Extra-Aust.]
Verrucaria maura Wahlenb. [HI, MI, Aust., Extra-Aust.]
Verrucaria mawsonii C.W.Dodge [HI, Extra-Aust.]
Verrucaria meridionalis P.M.McCarthy [LHI, Aust.]
Verrucaria mundula P.M.McCarthy var. mundula [CI, LHI, Aust., Extra-Aust.]
Verrucaria obfuscata Nyl. [HI, Extra-Aust.]
Verrucaria praetermissa (Trevis.) Anzi [LHI, Aust., Extra-Aust.]
Verrucaria subdiscreta P.M.McCarthy [MI, Aust., Extra-Aust.]
Verrucaria tessellata (C.W.Dodge) Øvstedal [HI]
Verrucaria tessellatula Nyl. [HI, MI, Extra-Aust.]
Verrucaria umbilicata Øvstedal [HI, Extra-Aust.]
Willeya pallidopora (P.M.McCarthy) Gueidan [CI, Aust., Extra-Aust.]
Xanthoparmelia amplexula (Stirt.) Elix & J.Johnst. [LHI, NI, Aust., Extra-Aust.]
Xanthoparmelia antleriformis (Elix) Elix & J.Johnst. [LHI, Aust., Extra-Aust.]
Xanthoparmelia australasica D.J.Galloway [NI, Aust., Extra-Aust.]
Xanthoparmelia consociata (Elix) Elix & J.Johnst. [LHI, Aust.]
Xanthoparmelia exuviata (Kurok.) Hale [LHI, Aust.]
Xanthoparmelia flavescentireagens (Gyeln.) D.J.Galloway [LHI, Aust., Extra-Aust.]
Xanthoparmelia glabrans (Nyl.) O.Blanco et al. [MI, Aust., Extra-Aust.]
Xanthoparmelia huttonii (Louwhoff & Elix) Elix [LHI]
Xanthoparmelia isidiigera (Müll.Arg.) Elix & J.Johnst. [LHI, Aust., Extra-Austr.]
Xanthoparmelia microcephala Elix & Kantvilas [LHI, Aust., Extra-Austr.]
Xanthoparmelia murina (Kurok.) Elix [LHI, Aust.]
Xanthoparmelia phillipsiana (Filson) Elix & J.Johnst. [MI, Aust., Extra-Aust.]
Xanthoparmelia pulla (Ach.) O.Blanco et al. [LHI, Aust., Extra-Aust.]
Xanthoparmelia scabrosa (Taylor) Hale [NI, Aust., Extra-Aust.]
Xanthoparmelia scotophylla (Kurok.) Elix [NI, Aust.]
Xanthoparmelia tasmanica (Hook.f. & Taylor) Hale [LHI, Aust., Extra-Aust.]
Xanthoparmelia thamnoides (Kurok.) Hale [LHI, Aust., Extra-Aust.]
Xanthoparmelia verrucella (Essl.) O.Blanco et al. [NI, Aust., Extra-Aust.]
Xanthoparmelia waiporiensis (Hillmann) O.Blanco et al. [MI, Aust., Extra-Aust.]
Xanthoria elegans (Link) Th.Fr. [MI, Extra-Aust.]
Xanthoria parietina (L.) Beltr. [LHI, NI, MI, Aust., Extra-Aust.]