Lichenologist 12: 297 (1980); Stictina fragillima var. dissimilis Nyl., Syn. Meth. Lich. 1(2): 336 (1860); Sticta fragillima var. dissimilis (Nyl.) Kremp., in E.Fenzl, Reise Novara 2: 119 (1870); Cyanisticta dissimilis (Nyl.) Räsänen, J. Jap. Bot. 16: 143 (1940). T: Australia, s. loc., E.Hampe; lecto: H-NYL 34103, fide D.J.Galloway & P.W.James, Lichenologist 12: 297 (1980). Stictina fragillima var. dissecta Müll.Arg., Flora 66: 22 (1883); Sticta fragillima var. dissecta (Müll.Arg.) Hellb., Bih. Kongl. Svenska Vetensk.-Akad. Handl. 21(3/13): 32 (1896). T: Norfolk Island, Dr Wools; lecto: G, fide D.J.Galloway, Bull. Brit. Mus. (Nat. Hist.), Bot. 17: 123 (1988); syn: G.
Thallus very variable, irregularly spreading, loosely to closely attached centrally, 5–12 (–15) cm wide; margins ±free. Lobes linear-elongate to shallowly rounded, (1–) 2–5 (–8) cm long, (1–) 3–8 (–10) mm wide, subdichotomously to irregularly branching, ±discrete at apices, complex-imbricate centrally, often canaliculate and divided into numerous phyllidia; lobe margins entire, sinuous, ridged above, thickened below, isidiate-phyllidiate. Upper surface pale grey-blue to glaucous brownish when dry, dark grey-blue to blue-black when wet, smooth to shallowly wrinkled, maculate. Maculae white, minute, laminal, scattered, irregular, pale buff or brown photobiont-free areas often present as ±extensive patches. Isidia marginal and laminal, simple, terete, to 3 mm tall and 0.1 mm diam., becoming densely crowded-coralloid and eventually flattened-phyllidiate. Medulla white. Photobiont Nostoc. Lower surface white or pale buff, glabrous at margins, costate and brownish-tomentose centrally. Pseudocyphellae white, punctate. Apothecia sessile, marginal and laminal; disc yellow-brown to red-brown, epruinose; exciple scabrid-areolate; epithecium yellow-brown to pale red-brown, K–; hymenium colourless; hypothecium yellow-brown to pale straw-yellow, K–. Ascospores fusiform-ellipsoidal, 1–3-septate, 20.5–29.5 × 7–9 µm, pale yellow-brown. CHEMISTRY: 7β-acetoxyhopane-22-ol, hopane-7β,22-diol (trace), hopane-15α,22-diol, gyrophoric acid and methyl gyrophorate.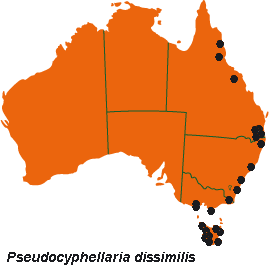 Occurs in eastern Qld, eastern N.S.W., southern Vic. and Tas.; common in wet-sclerophyll forest and callidendrous rainforest in Tas. where it occurs on rocks, soil, peat, logs, tree buttresses and tree fern trunks. Also in Norfolk Is., New Zealand and the Palaeotropics.