Lichenologist 17: 305 (1985). Stictina insculpta Stizenb., Flora 81: 129 (1895); Stictina impressula Müll.Arg., Flora 71: 22 (1888) non. Nyl. [in Flora 57: 71 (1874), based on Stictina tomentosa var. impressula Nyl., Ann. Sci. Nat. Bot., sér. 5, 7: 305 (1867) from South America]; Sticta insculpta (Stizenb.) Zahlbr., Cat. Lich. Univ. 3: 388 (1925). T: Mt Bellenden Ker, Qld, 1887, W.A.Sayer; holo: G 0020099. ***** Stictina impressula var. sublaevis Müll.Arg., Hedwigia 30: 48 (1891); Stictina insculpta var. sublaevis (Müll.Arg.) Stizenb., Flora 81: 129 (1895); Sticta insculpta var. sublaevis (Müll.Arg.) Zahlbr., Cat. Lich. Univ. 3: 388 (1925). T: Bellenden Ker district, Qld, 1889, F.M.Bailey 575 p.p.; holo: G 002105.
Thallus rosette-forming to irregularly spreading in entangled clones, loosely attached centrally, 5–12 (–20) cm wide. Lobes irregularly divided, subdichotomously branching at apices to complex-imbricate centrally, 0.5–1 (–4) cm long, 1–4 (–8) mm wide; lobe margins irregularly notched or incised, occasionally densely isidiate or lobular-phyllidiate. Upper surface olive-grey suffused brownish when dry, vivid navy-blue to blue-black when wet, irregularly undulate, conspicuously dimpled, punctate-impressed, rather fragile and papery when dry, isidiate-phyllidiate, maculate, without pseudocyphellae or soredia. Maculae minute, white, effigurate to ±reticulate (×10 lens). Isidia at first terete to subgranular, becoming flattened-phyllidiate. Phyllidia mainly marginal, simple to coralloid, to 2 mm tall. Medulla white. Photobiont Nostoc. Lower surface pale yellow-brown or whitish and glabrous at margins, grey- to brown-black-tomentose centrally. Pseudocyphellae prominent, white. Apothecia rare, sessile, 1–2.5 mm diam.; disc red-brown, matt, epruinose; exciple pale pinkish brown, wrinkled-striate, occasionally white-tomentose below; epithecium pale yellow-brown; hymenium colourless; hypothecium opaque yellow-brown. Ascospores ellipsoidal-fusiform, 1–3-septate, 28–33.5 × 6.5–8.5 µm, yellow-brown to red-brown. CHEMISTRY: Methyl gyrophorate, gyrophoric acid, 7β-acetoxyhopane-22-ol, hopane-7β,22-diol (trace) and hopane-15α,22-diol.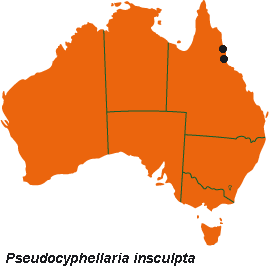 Occurs in north-eastern Qld, on bark of trees and shrubs, on rotting logs and rocks in lowland to montane rainforest. Also known in the Palaeotropics from Sri Lanka to Fiji.