Lichenologist 17: 306 (1985); Sticta sulphurea Schaer., in A.Moritzi, Syst. Verz. 127 (1846). T: Java, [Indonesia], s. loc., H.Zollinger 1860x; lecto: L 910, 182-20, fide D.J.Galloway, Lichenologist 17: 306 (1985). ***** Sticta demutabilis Kremp., J. Mus. Godeffroy 1(4): 98 (1874). T: Savai'i, [Western] Samoa, E.Gräffe 106; holo: M; iso: W. ***** Sticta karstenii Müll.Arg., Flora 64: 505 (1881); Pseudocyphellaria karstenii (Müll.Arg.) Szatala, Ann. Hist.-Nat. Mus. Nat. Hung. 7: 40 (1956), nom. inval. T: Bellenden Ker Range, Qld, Karsten 2; holo: G 002020.
Thallus irregularly spreading, often in large, tangled clones, loosely attached centrally, 5–15 (–25) cm wide. Lobes very variable, linear-elongate, ±dichotomously branching, (1–) 2–8 (–12) cm long, (1–) 3–8 (–12) mm wide, contiguous or discrete; apices free, divergent, rounded, pointed or furcate, complex-imbricate centrally; lobe margins entire, markedly thickened above and below, with occasional white pseudocyphellae. Upper surface pale grey-green, olivaceous to fawnish or red-brown when dry, lettuce-green when wet, glossy, conspicuously dimpled, punctate-impressed; without isidia, maculae, phyllidia, pseudocyphellae or soredia. Medulla white. Photobiont green. Lower surface pale whitish to pale yellowish or buff, noticeably wrinkled-ridged, thinly tomentose from margins to centre or ±glabrous. Pseudocyphellae scattered, fleck-like, minute at margins, to 0.5 mm diam., white. Apothecia marginal, sessile, 0.5–2.5 mm diam.; disc pale to dark red-brown, matt, epruinose; exciple pale yellow-brown, coarsely areolate-scabrid. Ascospores fusiform-ellipsoidal, 1-septate, (22–) 25–28 (–30.5) × 6.5–8 (–11) µm, yellow-brown to red-brown. CHEMISTRY: 7β-acetoxyhopane-22-ol (major), hopane-7β,22-diol (trace), hopane-15α,22-diol (major), tenuiorin (trace), methyl gyrophorate (trace), gyrophoric acid (trace) and 4-O-methylgyrophoric acid (major).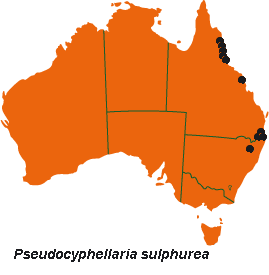 Occurs in eastern Qld and north-eastern N.S.W., on trees, shrubs, rotting logs and branches, and rock outcrops in montane rainforest. Common throughout the Pacific.