| | |
| --- | --- |
| card 13 front | card 13 reverse |
| | |
Cigarette Cards
At about the same time as Australia produced its first postage stamp in 1913, the cigarette companies were capitalising on the collecting urge and strengthening customer loyalty with series of cards on a wide range of topics.
W.D. & H.O. Wills produced a series of 50 cards on Australian wildflowers, probably in 1913. Each card is 33 mm x 68 mm.
A second series of these cards was produced a few years later, this time printed on silk (although it says 'satin' on the paper insert) 40 mm x 75 mm, featuring what appear to be the same illustrations of the same species, but with a different number sequence. It has been suggested that silk became cheaper than card due to paper shortages during the First World War.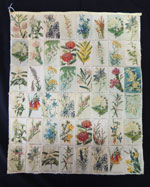 Hurstville City Council Museum has a cushion-cover made from these silk cigarette 'cards', dating from the First World War (H1980.780).
The artist
The artist Henry Baron (1863-1948) is assumed to have painted the illustrations for these cards. He is known to have worked for W.D. & H.O. Wills on cigarette cards and he also did illustrations for J.H. Maiden's botanical publications.
References:
New York Public Library, Digital Collections website:
http://digitalcollections.nypl.org/collections/cigarettecards?filters[place][]=Australia&filters[topic]=Wildflowers&keywords=#/?tab=navigation

Baker, Cassie (2013) 'Statement of Significance, Cushion Cover (1980.780) Hurstville City Library Museum & Gallery collections'. Hurstville City Council.

Skinner, Dion H. (1983) 'Cigarette Cards Australian Issues and Values', Renniks Books, Malvern, SA.

Wrigley, J.W. & Fagg, M. (2010) 'Eucalypts: a celebration', Allen & Unwin, Sydney, (page 279).