Biodiversity Information Systems (HB)
Information and Informatics Services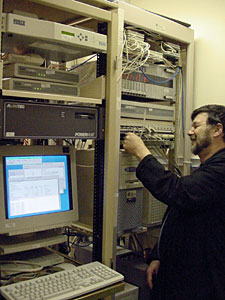 Expertise in botanical applications of information technology is available to staff, the wider botanical community and the public to assist with effective use of the Centre's information resources and biodiversity informatics experience. Tailored solutions and packaged services address both scientific and administrative requirements.
Capabilities include:
Analysis, advice and planning for new or evolving uses of botanical information.


Design and implementation of new or upgraded user applications to accommodate changing requirements and enhance productivity.


Loading, validation and transformation of botanical data from a range of sources, including spatially-enabled systems.


Generation of specialised reports or data extracts, including spreadsheets, maps, plant censuses and digital images.


Research into applied information technology solutions in support of botanical informatics and taxonomy.

2008 Report
Continued to supply statistics and data extracts to clients on a regular basis.

^ CSIRO Canberra
* Tropical Herbarium, Cairns
# SEWPaC (ANBG)
(PDF) = Postdoctoral Fellowship
(HRF) = Honorary Research Fellows
(PhD) = Graduate Students
Scientific and Technical Staf
PROJECT LEADER
STAFF, HONORARY ASSOCIATES & STUDENTS
Croft, Jim #
Fuchs, Anne #
Hook, John #