Biodiversity Information Systems (HB)
IBIS Operating Environment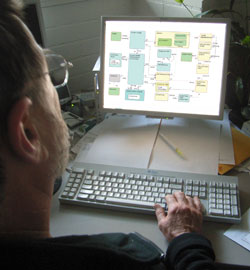 Operations are virtualized across the hardware platform using an integrated suite of technologies from Sun, Network Appliance, VMWare, Oracle and open source solutions where-ever possible. The cost and robustness of this core of proprietry systems is weighed carefully against the real benefits of open solutions with the cost of migration and maintenance having a significant influence on plans to move to alternative solutions. Never-the-less a move toward a truely virtual platform running independently of single vendor solutions and based entirely upon open-source remains a medium term goal.
The IBIS operating environment provides the infrastructure, applications and services supporting biodiversity informatics for the Australian National Botanic Gardens (ANBG) and the Centre for Plant Biodiversity Research (CPBR). IBIS incorporates systems for the integration, retrieval and disemination of biodiversity information; collections management (ALIVE, ANHSIR, APII); digital asset management; nomenclatural and taxonomic indices (APNI, APC); information delivery (www.anbg|cpbr.gov.au); web services (flora-online) and; federated database support (AVH, IPNI, GBIF).
Australian Tropical Herbarium (CNS, Cairns) Database
The QRS (Atherton) herbarium specimen database was in Microsoft Visual Fox and linked to other Microsoft Visual Fox databases that manage the data sets used in the production of the interactive key to Australian Tropical Rainforest Plants. The MBA (Mareeba) specimen database is a subset of the BRI herbarium database, managed in an MS Excel spreadsheet.
The new amalgamated database for CNS will be in Oracle and hosted by the Centre for Plant Biodiversity Research, in Canberra, and accessed online in real time by staff at the Australian Tropical Herbarium through on-line html forms.
The database query form and contact details to apply for a user name and password are available at: http://www.chah.gov.au/cgi-bin/anhsir