Australian National Herbarium (Program HC)
Australian Plant Census (APC)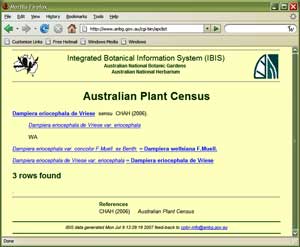 Program Leader: Brendan Lepschi
The Australian Plant Census (APC) project builds on the foundation of the Australian Plant Name Index (APNI). APNI lists every name that has been applied to Australian vascular plants in the taxonomic literature, including names of introduced naturalised species. The APC informs users which names are currently recognised and those which are presently regarded as synonyms, along with basic state-level distribution. All decisions of the APC are made with extensive input and consultation from botanists in all major Australian herbaria, making it a truly national, collaborative project.
Unlike previous published plant lists, the APC is a dynamic database, constantly updated as new information is published. In this sense it will never be 'finished' but the first pass at a consensus census for all Australian flowering plants is expected by 2011.
The APC is accessible to during its development at: http://www.chah.gov.au/apc/about-APC.html for the families that have so far been treated.
The APC team welcomes corrections or feedback on the project and its constituent data via: canbr-info@anbg.gov.au