in J.M.Crombie, J. Bot. 14: 263 (1876). T: "Ins. Rodrigues", Sept.–Dec. 1874, I.B.Balfour; lecto: H-NYL 27475, fide H.T.Lumbsch, G.B.Feige & J.A.Elix, Bryologist 98: 563 (1995).
Thallus continuous to rimose, yellowish grey to greenish grey, epruinose, glossy. Soredia absent. Prothallus blackish brown. Apothecia sessile, 0.3–0.8 mm diam.; disc orange-brown, epruinose to slightly greyish-pruinose; margin concolorous with the thallus, thin to thick, smooth, entire to verruculose, persisting or becoming excluded. Cortex hyaline, inspersed with numerous small crystals, 15–35 µm thick laterally and basally. Amphithecium with large crystals insoluble in KOH (pulicaris-type). Parathecium hyaline, with small crystals, c. 10 µm thick. Epihymenium yellowish brown, c. 10–15 µm thick, with crystals soluble in KOH (chlarotera-type). Hymenium, subhymenium and hypothecium hyaline. Paraphyses sparingly branched and thickened apically. Ascospores ellipsoidal to broadly ellipsoidal, 10.5–16.5 × 6.5–8.5 µm. CHEMISTRY: Thallus and apothecial margin K+ yellow, C+ orange, Pd+ yellow; containing 2'-O-methylperlatolic acid (major), usnic acid (major), atranorin (submajor), chloroatranorin (minor), arthothelin (minor or absent) and traces of unidentified terpenes.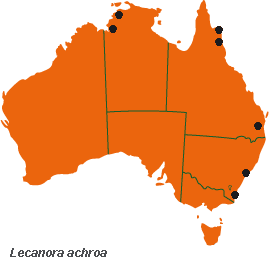 A corticolous species which occurs on the bark of various trees in rainforest, mangroves and gallery forest in N.T., Qld, N.S.W. and Tas. Also in North and South America, Indian Ocean islands, the North Island of New Zealand, Papua New Guinea and the South Pacific.