Usnea 1: 109 (1936). T: ad flumen Murray [Murray R., Vic.], 1872, H.Wawra 451; holo: W. ****Usnea dasypogoides var. angulosa Müll.Arg., Flora 69: 254 (1886); U. angulosa (Müll.Arg.) Motyka, Usnea 2: 512 (1937). T: Upper Swan R., W.A., Miss Sevell; holo: G.
Thallus shrubby, tangled, to 5 cm long,yellow-green or pale greenish yellow, rarely pale green; branching irregular, dense, occasionally sparse; trunk usually pale; branches terete to slightly angular, 0.5–1.0 mm wide, sometimes foveolate and slightly inflated at the base; apices tapered, usually forked, sometimes broken or blackened; fibrils dense; papillae absent or rare. Isidia in pseudocyphellae only, dense, often black-tipped; pseudocyphellae dispersed along entire length of branch, punctiform, becoming confluent, often eroding, concave, elongate to effigurate towards apices; soralia absent. Cortex matt, not waxy. Medulla arachnoid; axis 2/5–1/2 width of branch, hyaline. Apothecia absent or rare, lateral or subterminal, 2–3 (–6) mm diam.; disc concave; margin with few to moderately numerous fibrils; lower surface smooth. Ascospores c. 8 × 5 µm. CHEMISTRY: Cortex containing usnic acid. Medulla K–: containing psoromic acid (major), conpsoromic acid (minor) and ±2'-O-demethylpsoromic acid (trace), or squamatic acid, or diffractaic acid (minor) and psoromic acid (minor), or diffractaic acid (minor) and squamatic acid (minor), or containing no lichen substances.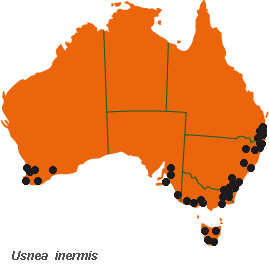 Occurs in W.A., S.A., south-eastern Qld, N.S.W., A.C.T., Vic. and Tas. Common on twigs of Eucalyptus, Acacia etc. in open forest from 300 m to 1800 m; rarely on rock. Also in New Zealand and Chile.