Acta Soc. Fauna Fl. Fenn. 7: 183 (1890); Sticta aurata Ach., Methodus 277 (1803). T: Devon, England, ex Herb. Hudson; holo: H-ACH 1534. Sticta aurata var. microphylla Müll.Arg., Flora 65: 304 (1882). T: Toowoomba, Qld, 1881, C.H.Hartmann; holo: G; iso: G, MEL.
Thallus in neat rosettes to irregularly spreading, loosely attached, 5–10 (–15) cm wide. Lobes irregularly laciniate, ±discrete at margins, imbricate-confluent centrally, 2.5–4 cm long, 3–15 mm wide; lobe margins sinuous, entire to slightly scalloped or crenate, slightly thickened below and with punctiform to linear yellow pseudocyphellae, or becoming sorediate. Upper surface pale glaucous to buff when dry (reddening on storage), bright lettuce-green when wet, undulate to wrinkled, matt to scabrid-areolate in parts, to tomentose at margins; soredia yellow, in sinuous labriform soralia, eroding lower surface, or scattered in erose laminal patches. Medulla yellow. Photobiont green. Lower surface brownish red when dry, dark brown centrally, rufous, yellow when wet, tomentose; tomentum silky, pinkish buff to whitish at margins, thicker and darker, to chocolate-brown centrally, occasionally ±lacking. Pseudocyphellae numerous, yellow, conspicuous, round to irregular, punctiform and minute at margins, often confluent centrally, (0.1–) 0.5–1.5 (–2) mm diam. Apothecia rare, pedicellate; disc matt, red-brown, epruinose, often obscured by overarching sorediate margins; exciple concolorous with thallus, sorediate and rather ragged. Ascospores fusiform-ellipsoidal, 3-septate, (25–) 30–32 × 6–7 µm, brown. CHEMISTRY: pulvinic acid, pulvinic dilactone, calycin, 3β-acetoxyfern-9(11)-en-12-one,
3β-acetoxyfern-9(11)-en-12β-ol, fern-9(11)-en-3β,12β-diol, 3β-acetoxyfern-9(11)-en-19β-ol, 3β-hydroxyfern-9(11)-en-12-one and lupeol acetate.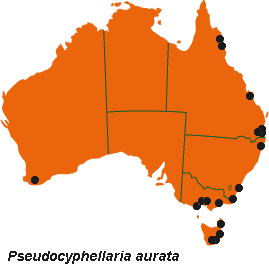 Occurs in W.A., eastern Qld and N.S.W., southern Vic. and Tas., on trees and shrubs and decorticated wood in ±open rainforest, and in coastal forest, from sea level to 1080 m; also in Norfolk Is. and Lord Howe Is. Widespread in tropical and cool-temperate regions.