Philipp. J. Sci., Sect. C, Bot. 8: 125 (1913); Sticta ciliaris f. duplolimbata Hue, Nouv. Arch. Mus. Hist. Nat.,sér. 4, 3: 102 (1901). T: Insula Oshima in Riuku, Japan, July 1900, R.P.Faurie 2756; lecto: BM, fide D.J.Galloway, Tropical Bryol. 15: 132 (1998).
Thallus palmate to irregular, 2–4 (–8) cm wide, attached by a rooted holdfast; lobes arising from short stalks 5–8 mm long. Lobes subrotund to irregularly laciniate, irregularly branching, 5–10 mm wide; margins entire to notched or irregularly incised, isidiate, ciliate, sometimes with small secondary lobules with ciliate margins. Isidia minute, styliform, granular, dark grey, often crowded at margins. Cilia prominent, black, to 2 mm long, marginal, fringing lobes. Upper surface pale grey or glaucous red-brown when dry, dark blue-black when wet, undulate to ±plane, smooth or occasionally shallowly wrinkled or pitted, thin, papery to somewhat leathery, maculate, without phyllidia or soredia. Maculae minute, white, reticulate. Photobiont Nostoc. Lower surface pale buff, glabrous at margins, dark brown to black and velvety to felted-tomentose centrally, occasionally with small stalked thalline lobules projecting from the lower surface. Cyphellae round to irregular, conspicuous, 0.1–1 mm diam.; margins swollen, thelotremoid, pale; pit membrane white. Apothecia not seen.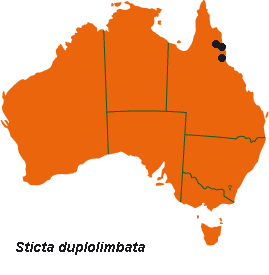 A rare species on mossy tree trunks and shrubs and on rotting logs in humid, shaded montane rainforest in north-eastern Qld at 600–1600 m. Also occurs in Sri Lanka, Japan, China and the Philippines.