Methodus 280 (1803); Lichen limbatus Sm., in J.E.Smith & J.Sowerby, Engl. Bot. 16: 1104 (1803); Stictina limbata (Sm.) Nyl., Syn. Meth. Lich. 1(2): 346 (1860). T: Hafod, Cardiganshire, Wales, J.E.Smith; lecto: BM, fide D.J.Galloway, Lichenologist 26: 259 (1994).
Thallus ±monophyllous, reniform to irregular, loosely attached at one point, (0.5–) 1–4 (–6) cm wide. Lobes broadly rounded to subirregular, often ±cochleate; margins sinuous, rarely notched or incised, thickened, ±revolute, with a definite ridge below. Upper surface dull grey-brown or red-brown when dry, livid slate-grey to grey-brown suffused reddish when wet, undulate, smooth or punctate-impressed or irregularly wrinkled to subfaveolate in parts, in places glossy, elsewhere matt, maculate, sorediate, without isidia or phyllidia. Maculae minute, white. Soredia in erose marginal soralia or in scattered rounded pustular laminal soralia, usually close to lobe margins, coarsely granular, grey-blue, sometimes also developing in cyphellae. Photobiont Nostoc. Lower surface pale yellowish buff to grey-brown, red-brown or dark brown, delicately wrinkled-ridged or striate near margins, scabrid-roughened close to margins, elsewhere densely felted-tomentose. Cyphellae sparse, rounded, 0.5–1 mm diam., sunk in tomentum; margins very thin; pit membrane white. Apothecia not seen.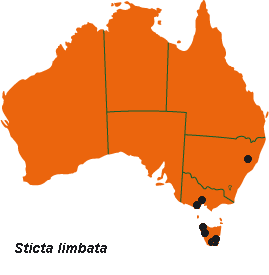 Occurs in eastern N.S.W., Vic. and Tas. on understorey twigs and tree buttresses in very wet humid open forests, common at scrubby margins of rainforest and in some wet heaths and sclerophyll forests. Also widely distributed in the Northern Hemisphere, East Africa, New Zealand and South America.