Ann. Sci. Nat. Bot., sér. 2, 18: 265 (1842); Sticta filicina var. marginifera (Mont.) Mont., Ann. Sci. Nat. Bot., sér. 3, 18: 308 (1852); Stictina filicina var. marginifera (Mont.) Nyl., Syn. Meth. Lich. 1(2): 349 (1860); Stictina marginifera (Mont.) Nyl., Bull. Soc. Linn. Normandie, sér. 2, 2: 53 (1868); Lobaria marginifera (Mont.) Trevis., Lichenotheca Veneta 75 (1869). T: Manille [Manila, Philippines], C.Gaudichaud; lecto: BM, fide D.J.Galloway, Tropical Bryol. 15: 141 (1998).
Thallus palmate to irregularly branched in clumps, or spreading, 1–4 cm wide, developing from a thin to thick (1–4 mm) short to long stalk (2–10 mm), arising from a rooted holdfast. Lobes flabellate to reniform to irregularly dichotomously branching, proliferating round to oblong lobules attached to primary lobes by thin terete stalks; margins entire or irregularly notched, thickened below, occasionally inrolled, with or without isidia and lobules (when present, often densely developed), sometimes also with irregularly developed black cilia. Upper surface greyish glaucous to dark red-brown when dry, dark blue-black when wet, undulate to irregularly pitted to subreticulate near apices, thin, papery, rather fragile, isidiate, maculate, phyllidiate. Isidia marginal, spreading onto upper surface, terete, initially styliform, becoming coralloid (often densely so), to 1.5 mm tall. Maculae minute, white, often in a well-developed reticulum. Phyllidia marginal, developing from isidia, to 2 mm tall, irregularly lobed. Photobiont Nostoc. Lower surface white or pale buff at margins, ochraceous to red-brown centrally, commonly ridged-striate to reticulate, bullate or puckered, glabrous and glossy to minutely pubescent. Cyphellae scattered, pin-prick-like, to 0.5 mm diam.; pit membrane white. Apothecia not seen.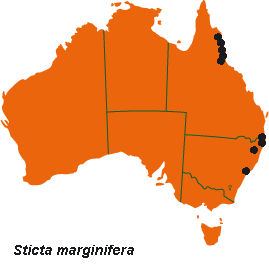 Occurs in eastern Qld and N.S.W. in humid, deeply shaded habitats in montane rainforest on mossy rocks, rotting logs, and at bases of tree trunks, at altitudes of 750–1600 m. Also in New Caledonia and the Philippines and probably more widely distributed in the western Pacific.