in J.A.Elix, J.Johnston & P.M.Armstrong, Bull. Brit. Mus. (Nat. Hist.), Bot. 15: 207 (1986). T: Liddle Hills, north of Angas Downs Homestead, N.T., 10 Sept. 1983, J.A.Elix 11172 & L.A.Craven; holo: CANB.
Thallus foliose, tightly adnate, to 3–5 cm wide. Lobes imbricate or not, flat, irregular, irregularly branched, 0.5–1.5 (–2) mm wide. Upper surface yellow-green, darkening to darkish olive-green, mostly dull, shiny near apices, emaculate, becoming rugose and areolate in older lobes, without soredia; isidia scattered, globose or short-cylindrical, simple, expanding laterally and becoming sparingly branched; isidia apices epicorticate, ultimately becoming inflated and rarely erumpent, not sorediose. Medulla white. Lower surface shiny, pale tan to light brown, darker blackish brown at apices; rhizines moderately dense, simple, slender, ±elongated to 0.8 mm long, concolorous. Apothecia and pycnidia not seen. CHEMISTRY: cortex K-, UV-; medulla K-, C-, P-, KC+ yellow-orange; containing usnic acid, barbatic acid (major), 4-O-demethylbarbatic acid and 3-a-hydroxybarbatic acid.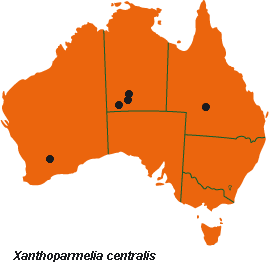 Very rare, endemic, on rock near Kalgoorlie (W.A.), in the Macdonnell Ra. and areas near Alice Springs (N.T.).