in J.A.Elix, J.Johnston & P.M.Armstrong, Bull. Brit. Mus. (Nat. Hist.), Bot. 15: 242 (1986); Parmelia everardensis Elix & P.M.Armstr., Austral. J. Bot. 31: 473 (1983). T: Mount Illbillee, Everard Ranges, S.A., 25 Nov. 1975, R.B.Filson 15682; holo: MEL.
Thallus foliose to subcrustose, adnate to tightly adnate, to 5 cm wide. Lobes contiguous, irregular, irregularly branched, 1–3 mm wide; apices subrotund. Upper surface yellow-green, darkening with age, dull, shiny towards lobe apices, emaculate, lacking soredia and isidia; older lobes irregularly fractured and areolae commonly formed. Medulla white. Lower surface dark blackish brown to jet black; rhizines sparse to moderately dense, simple, short, black. Apothecia sessile, 1–2 mm wide; disc concave, dark brown; thalline exciple smooth, entire. Ascospores 8–9 × 4–5 µm. Pycnidia common. Conidia bifusiform, 5–7 × 0.5 µm. CHEMISTRY: cortex K-, UV-; medulla K-, C-, KC-, P-; containing usnic acid, ±atranorin, diffractaic acid (major), barbatic acid (minor) and 4-O-demethylbarbatic acid (trace).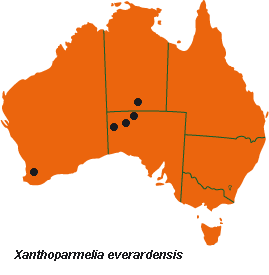 Very rare, endemic, on rock faces with a southerly aspect in south-western W.A., southern N.T. and arid northern S.A.