Checklist of Pacific Island Lichens
21 August 2008
The first checklist of the lichens of the smaller Pacific islands was published in 1998 (J. A. Elix & P. M. McCarthy, Bibliotheca Lichenologica 70: 1–361). Here, we update that list.
Species and infraspecific taxa, their publication details, synonymy and bibliographic and distributional information are documented for 32 island groups and isolated islands in the Pacific Ocean between latitudes 40°N and 40°S.
A total of 291 genera are listed, with 2422 accepted species and intraspecific taxa and 1710 synonyms; 749 of the accepted taxa are based on type specimens from the region (indicated by *). We have not included records from Japan and islands of the Nansei-Shoto Ridge, Taiwan, the Philippines, New Guinea, the Bismarck Archipelago, Bougainville and New Zealand.
Names, records, literature and distributions published since 1998 are in blue. Checklists for each of the island groups will be added during 2008.
Records for the Australian territories of Lord Howe Island and Norfolk Island are not included here; these are available via http://www.anbg.gov.au/abrs/lichenlist/introduction.html.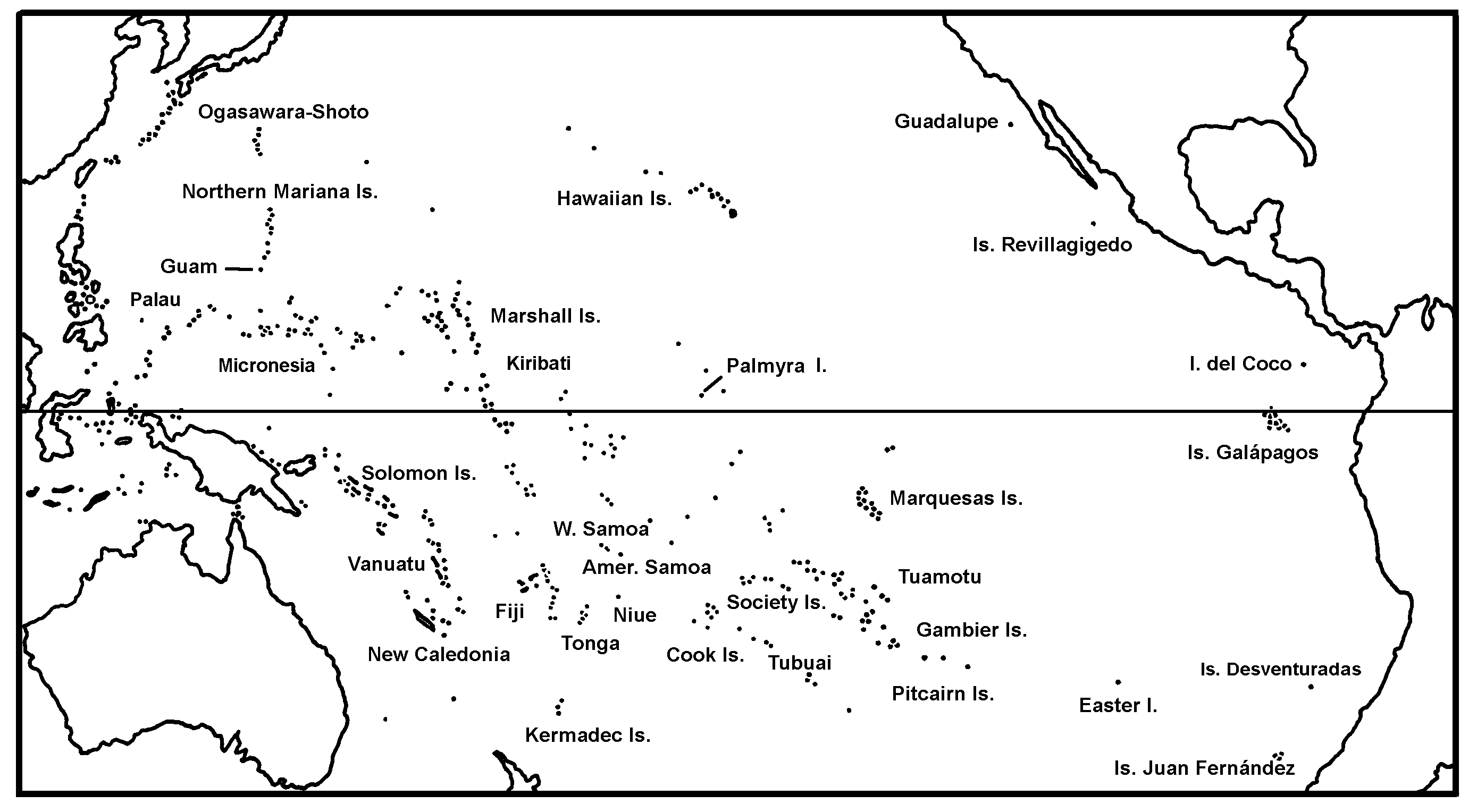 * Includes 14 taxa reported from "Samoa".
Acknowledgements
We are grateful to André Aptroot (literature and corrections) and Hiroshi Harada (literature).
Cite as...
Elix, J. A. & McCarthy, P. M. (2008), Checklist of Pacific Island Lichens. Australian Biological Resources Study, Canberra. Version 21 August 2008. http://www.anbg.gov.au/abrs/lichenlist/Pacific_introduction.html
John A. Elix
Department of Chemistry
Australian National University
Canberra
A.C.T. 0200
AUSTRALIA

Patrick M. McCarthy
Australian Biological Resources Study
GPO Box 787
Canberra
A.C.T. 2601
AUSTRALIA
E-mail: abrs@environment.gov.au
Copyright
This work is copyright. Apart from any use as permitted under the Copyright Act 1968, no part may be reproduced by any process without prior written permission from Australian Biological Resources Study. Requests and inquiries concerning reproduction and rights should be addressed in the first instance to Dr P. McCarthy. These pages may not be displayed on, or downloaded to, any other server without the express permission of ABRS.