Leionema coxii
Previously known as Phebalium coxii
Leionema coxii (F.Muell.) Paul G.Wilson
Leionema coxii, a member of the Rutaceae family, is not common in cultivation. Once thought to be restricted to the summit of a single mountain in the Budawang Range of New South Wales, it is known now to be more wide-spread, occurring along nearly 100 km of the Southern Tablelands escarpment. The plant grows in rocky terrain, often on steep slopes.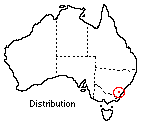 Leionema coxii may be either single or multi- stemmed and in the wild grows 5 m high. The leaves are dark green, narrow, elliptical, up to 70 mm long with a finely serrated margin towards the apex. Like those of all members of the family the leaves are distinctively aromatic. A. R. Penfold in 1925 stated that 'the leaves on crushing between the fingers readily emit a delightful fruity odour, which very closely resembles that of the luscious passion fruit (Passiflora edulis).
Leionema coxii should be planted where there is good drainage and some shade and mulched to ensure a cool root run. Once established it is fast growing and hardy, often developing a pyramidal shape. The deep pink flower buds clustered together in groups of 10-30 at the top of a branchlet open during September and October to form creamy white masses over the outside of the plant. The fruit is capsular, splitting to release 2-5 kidney-shaped seeds in late December.
Cuttings are the most suitable method of propagation. Complex dormancy problems make seed germination unsatisfactory. Cuttings are best taken in December or January from semi-hardwood growth and will usually strike within two or three months.
Leionema coxii is generally free from pests and diseases. If problems do occur consult local experts for advice.
Text by Julia Rymer, ANBG (1983)
Name meaning: Phebalium coxii
Phebalium - is apparently from the Greek, phibaleos, a fig, the reason being obscure;
coxii - named after Dr J. C. Cox of Sydney.