Pandorea jasminoides
Bower of Beauty, Bower Vine, Bower Climber
Pandorea jasminoides (G.Don) K.Schum.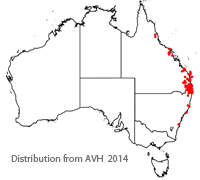 Pandorea jasminoides, commonly known as Bower of Beauty, Bower Vine or Bower Climber is an evergreen, vigorous woody climber, and member of the Bignoniaceae family. Typically found in tropical and subtropical rainforests and warm temperate areas of eastern Queensland to northern New South Wales, it will thrive in southern Australia if provided sufficient moisture and frost protection when young. Despite being frost tender to 5˚C it survives Canberra winters in sheltered areas.
Growing in most soils that are moist and well-drained (acidic soils are also suitable) it prefers full sun or part-shade. Adequate sunlight is required for good flowering and as a rainforest climber it will grow to reach for sunlight. Pandorea jasminoides tolerates a range of humidity conditions and due to growing well in inner urban areas it is assumed to be smog tolerant.
The glossy dark green leaves are mostly opposite or in whorls of 3 and 12 to 20 cm long. Each leaf consists of 4 to7 leaflets with lanceolate to ovate shaped leaves. Flowers are white or pale pink trumpet shaped with hairy centres, up to 6cm long with lobes 2 to 3cm long, and appear in clusters for months from late spring to summer. Flowers are followed by immature light green, oblong stalked fruit capsules that mature into woody pods about 8cm long and 2cm wide. The boat-shaped pods contain numerous papery seeds and when split reveal individual elongated or circular shaped winged seeds.
Propagation is possible from fresh seed in spring and by stem cuttings or layering in summer. Young plants are very susceptible to frost damage and generally do not require fertiliser, although they respond well to light doses of slow-release and water soluble fertilisers. Once established it is rare for plants to require supplementary watering, unless located in hot areas with low rainfall.
While horticulturally desirable for its aesthetic appearance with yearlong foliage and long lasting floral displays, its vigorous growth is also an advantage for screening along fences or climbing on pergolas and trellises. It mixes well with natives and exotics and is very hardy in tropical to semi tropical regions. Pruning after flowering can restrain growth and plants respond well to hard pruning.
It is important to note that Pandoreas develop a strong and penetrating root system and should not be planted near underground pipelines.
Text by Rosie Vatchenko (2014 Student Botanical Intern)
Name meaning: Pandorea jasminoides
Pandorea – In Greek Mythology Pandora opens a sealed vessel to release evil spirits. In relation to the plant this reference is likened to the many seeds released once the capsule is spilt open.
jasminoides – From the Latin jasminum, meaning "jasmine" and the Greek oides, meaning "resembling". Jasminoides refers to a resemblance to the plant jasmin or the genus Jasminum.
References:
Australian Virtual Herbarium, Atlas of Living Australia (2014). Available http://avh.ala.org.au/occurrences/search?taxa=pandorea+jasminoides#tab_mapView.Viewed 26 January 2014.

Australian Native Plant Society (2014). Available http://asgap.org.au/p-jas.html.
Viewed 8 February 2014.

Bailey, R. & Lake, J. (2001) Gardening with Australian rainforest plants, Bloomings Books, Melbourne, VIC.

Brickell, C. (1999) Gardeners encyclopaedia of plants and flowers, Dorling Kindersley Limited, London.

Elliot, W. R. & Jones, D. L. (1997) Encyclopaedia of Australian plants suitable for cultivation, Publishing Solutions, Singapore.

Greig, D. (1994) Australian climbers and ground covers, Simon & Schuster, East Roseville, NSW.

Horton, J. (1992) The climbing garden, Kangaroo Press Pty Ltd, Kenthurst, NSW.

Mansfield, D. (1992) Australian rainforest plants for your garden, Simon & Schuster, East Roseville, NSW.

Spence, R. (2002) Horticultural flora of south-eastern Australia volume 4: the identification of garden and cultivated plant- flowering plant dicotyledons 3, University of New South Wales Press Ltd, Sydney, NSW.

Stewart, A. (2002) Australian plants for year-round colour, Australian Broadcasting Corporation, Sydney, NSW.

Wrigley, J.W. & Fagg, M. (1996) Australian native plants: propagation, cultivation and use in landscaping, Reed Books, Chatswood, N.S.W.